HOMESCHOOLERS: We have some very cool advertisers on this website, and as VegSource is supported by advertising, we're happy about that. If you can't see any ads, you might have an ad blocker, or a setting in your browser which blocks ads from showing up. Consider turning on ads while on vegsource so that you can see what they have to offer, and so that this site can remain free.
Reply To This Post Return to Posts Index VegSource Home
---
| | |
| --- | --- |
| From: | Tracey (71.50.108.219) |
| Subject: | ABEKA 1st grade items (PHOTO) |
| Date: | February 23, 2013 at 11:37 am PST |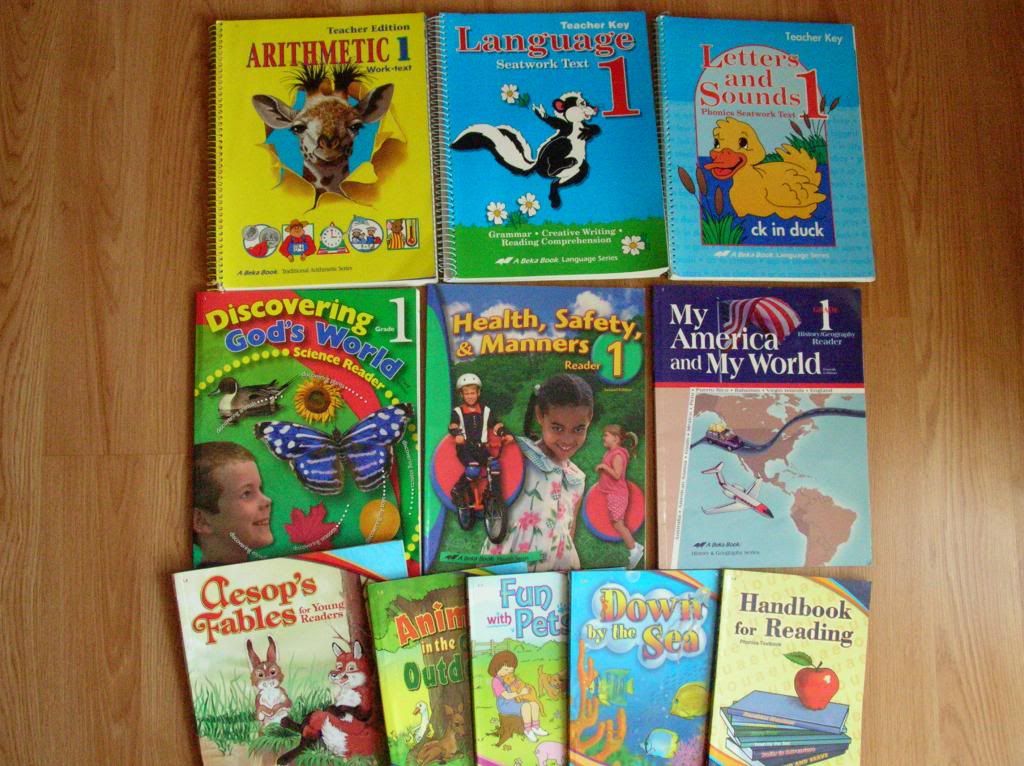 For Sale:
Abeka 1st grade items:
Arithmetic 1 Teacher's Edition, giraffe on cover, c1993, $12ppd
Letters and Sounds 1 Teacher's Edition, prev ed, $10ppd
Language 1 Teacher Key, prev ed, $10ppd
Handbook for Reading, phonics textbook, curr ed, 94927, $7ppd SOLD
Readers (Pencil markings erased):
Fun with Pets 1.1, 94951, $5ppd SOLD
Aesop's Fables for Young Readers 1.8, 95087, $5ppd SOLD
Animals in the Great Outdoors 1.6, 61697, $5ppd
Down by the Sea 1.10, 63746, $5ppd
Last 2 books combined discount: $8ppd
My America and My World 1, student reader, 95311, curr ed, markings
erased, have 2 copies, $8ppd each
Discovering God's World 1, student Science Reader, 95265, curr ed,
markings erased, $8ppd SOLD
Health Safety and Manners 1, student reader, 95281, curr ed, markings
erased, $8ppd SOLD
(Also have previous edition, markings erased-$4ppd)
Non smoking/no pet home. I accept PayPal (fee extra) or money order.
Please send a direct email if interested or have further questions.
Thanks,
Tracey
savingmoney4us@aol.com
Reply To This Post Return to Posts Index VegSource Home
---