Reply To This Post Return to Posts Index VegSource Home
---
Hello .. I am a small cottage well established business of sewing for Girls and their dolls and Now
Boys historical outfits .. all seams are serged and ribbons fraychecked for long lasting wear and play ..Great for visits to ONe room school houses, Willamsburg, and Pioneer Treks..
I have been here at Vegsource for over 12 years now .. first buying and selling my personal Homeschool items then as one of the original dealers.. You may check out comments on my sewing on the "Appreciation page" going back as far as the archives. to help you to order in confidence.
Both email addresses I can reached at
Ashleys.attic@hotmail.com Miashleysattic@aol.com
** please note all my outfits are MADE TO ORDER.. I do not stock items but make them especially for you.
Boys Davy Crockett, Frontiersman outfit .. 2 piece suede cloth outfit with fringe trim
Available in sizes 4 to 8
$46.00
(Hat in picture not included.. but I can direct you to a very cheap place to get boys hats..)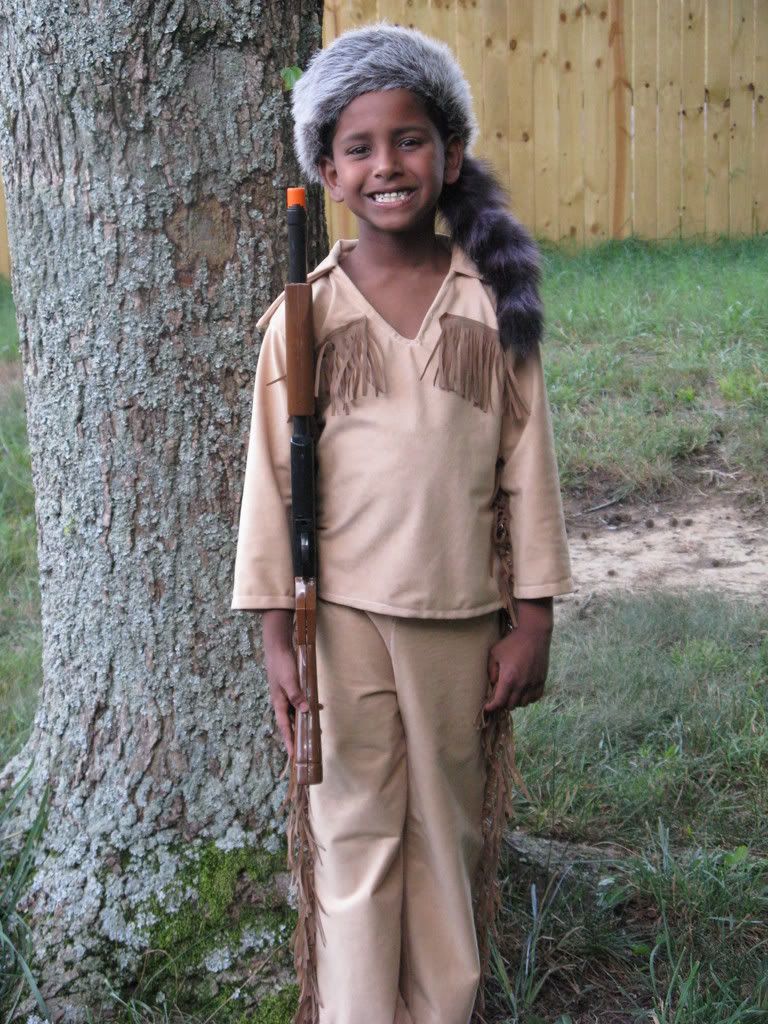 Native American Outfit for boys made in Suede cloth trimmed in ribbon and fringe .. and leather tie ..
Shirt only Boys size 4 to 12 // $25.00
Shirt and pants (are same style as Frontiersman pants) // $50.00
Mans size Small or Medium shirt only// $30.00 (for young men)
Shirt and pants // $58.00 ( up to 32" inseam)

Frontier Shirt .. White or ivory cotton with or Without a collar (your choice) .. leather tie ..
Sz. 4 to 8 boys // $18.00
Sz. Mans extra small and Small // 20.00
Sz. Mans Medium / $25.00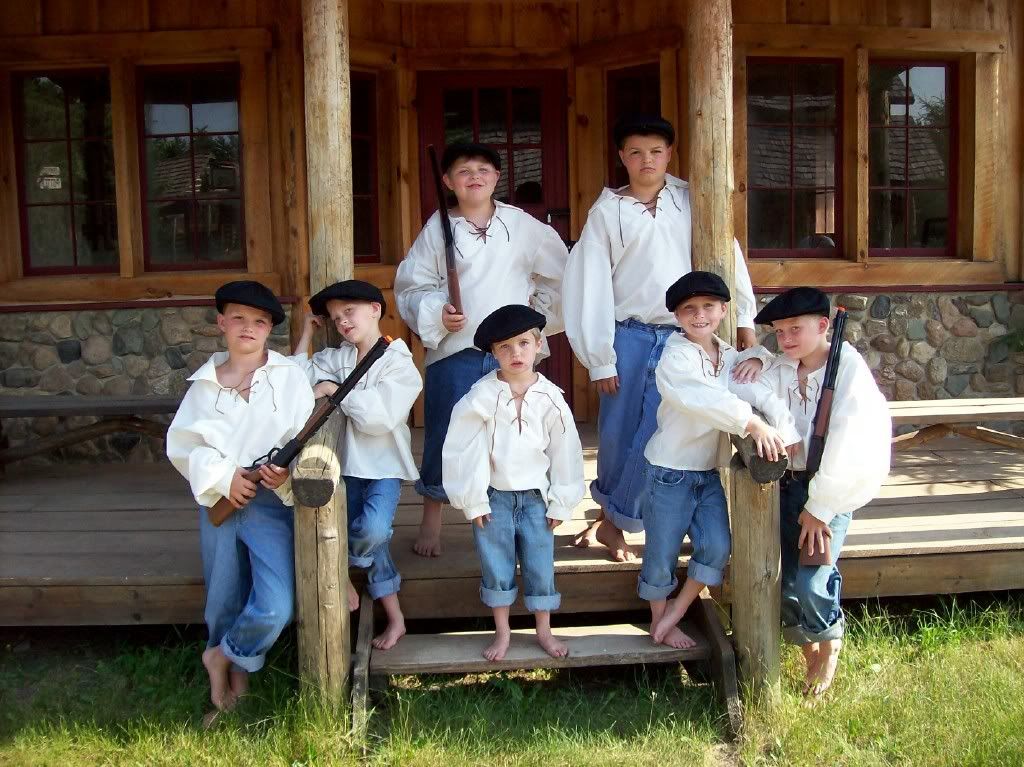 Middle Ages Tunics .. IN cotton Red, Royal blue, deep Green (with Cross, Lion or Dragon)
Sizes 4,6,8 boys // $16.00
Middle ages Tunics
In Mans Small : $20.00 (with cross,Lion, or Dragon)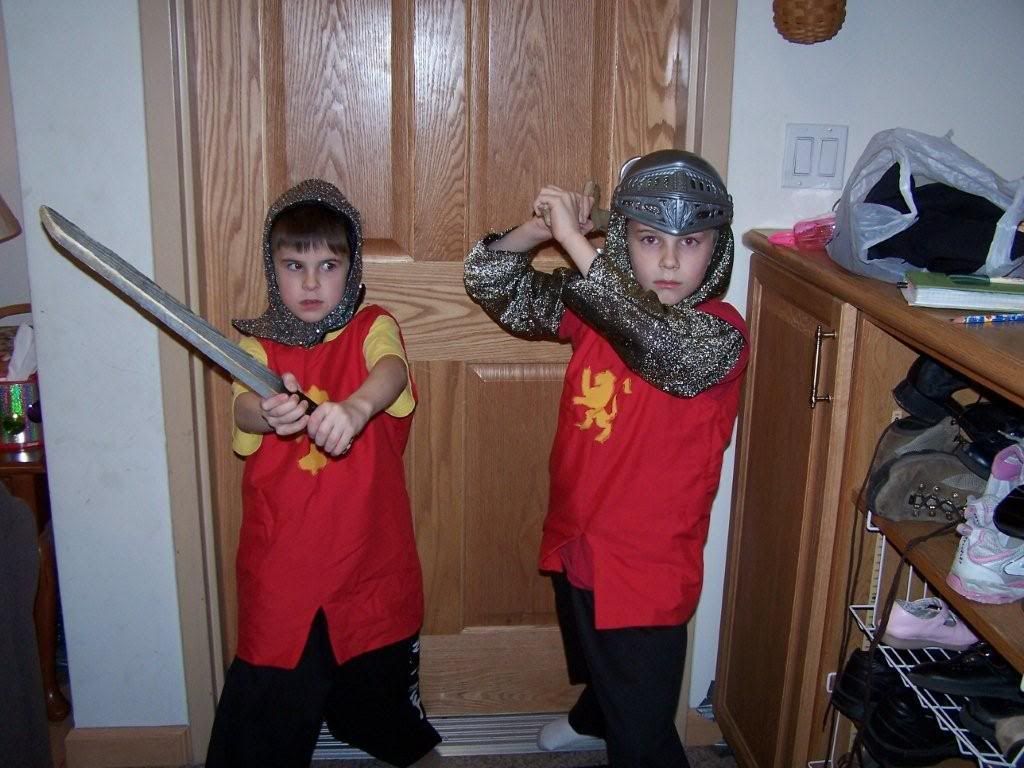 (belt not included but really makes the Knights tunic)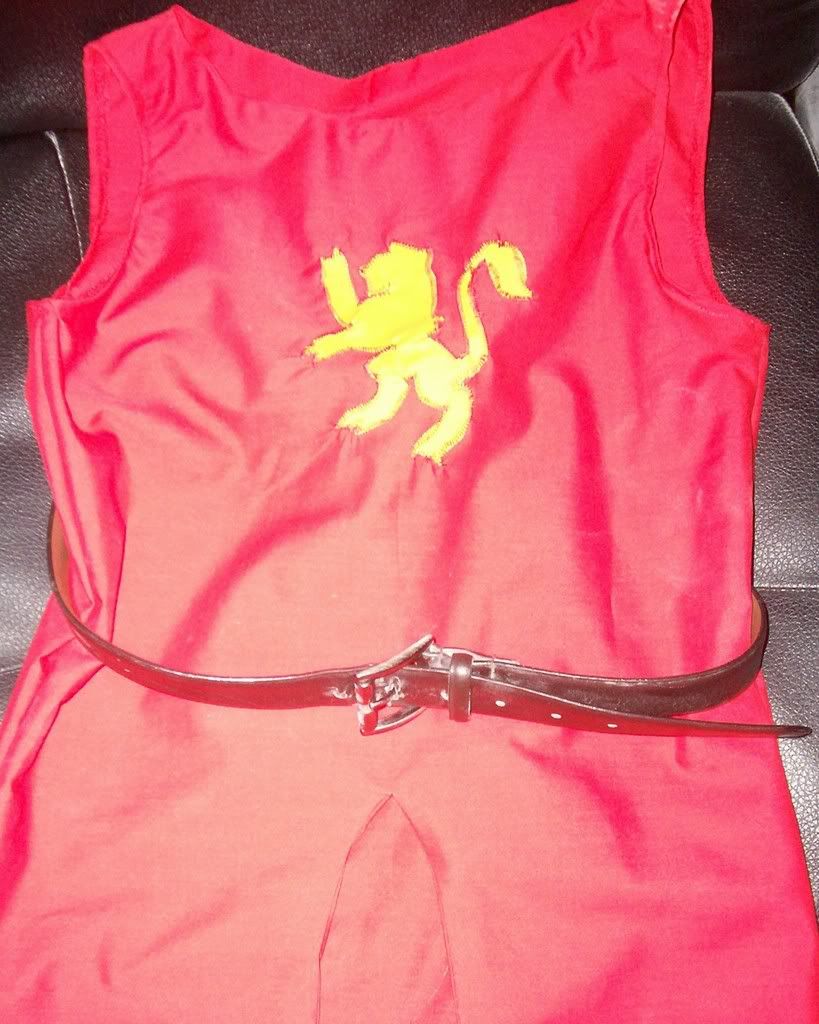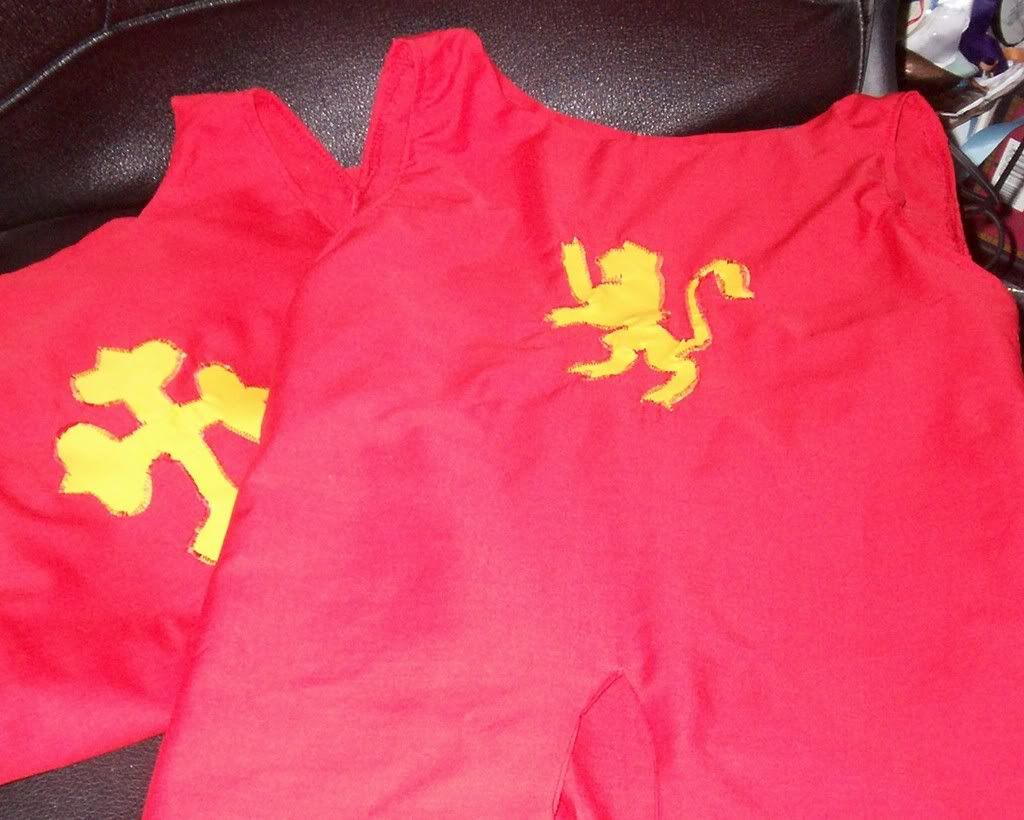 Musketeer Tabard ... with emblum .. in Royal blue and Gold
Sizes S & M boys // $22.00
Mans size Small // $26.00
Colonial Boys
Breeches (elastic Waist ) 4 to 10/18.00
12 to 14 //$20.00
Long Vest (linen)lined w/bass or wooden buttons type buttons 4 to 10/$20.00
12 and 14/$22.00
** there are 2 different kinds of vest .. one with a V neckline .. longer in the front then back.. ..
and the round neck vest .. both are the same price
Drop shoulder Colonial shirt
$18.00 (white or ivory)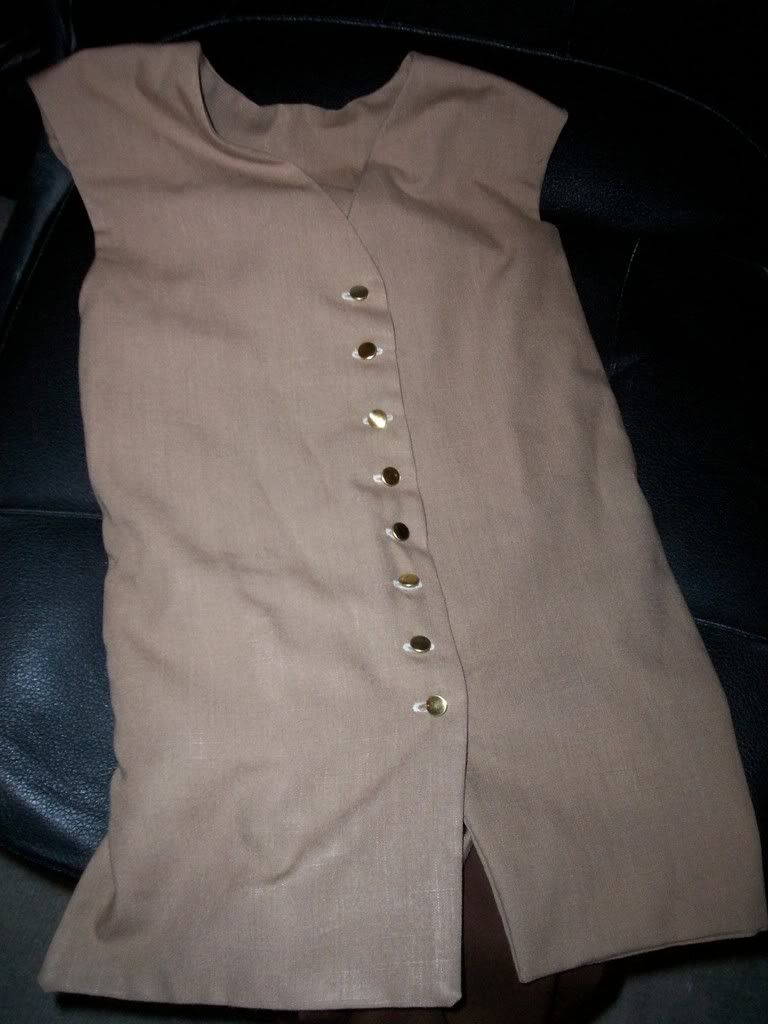 Period Gusset :



Wooden buttons used: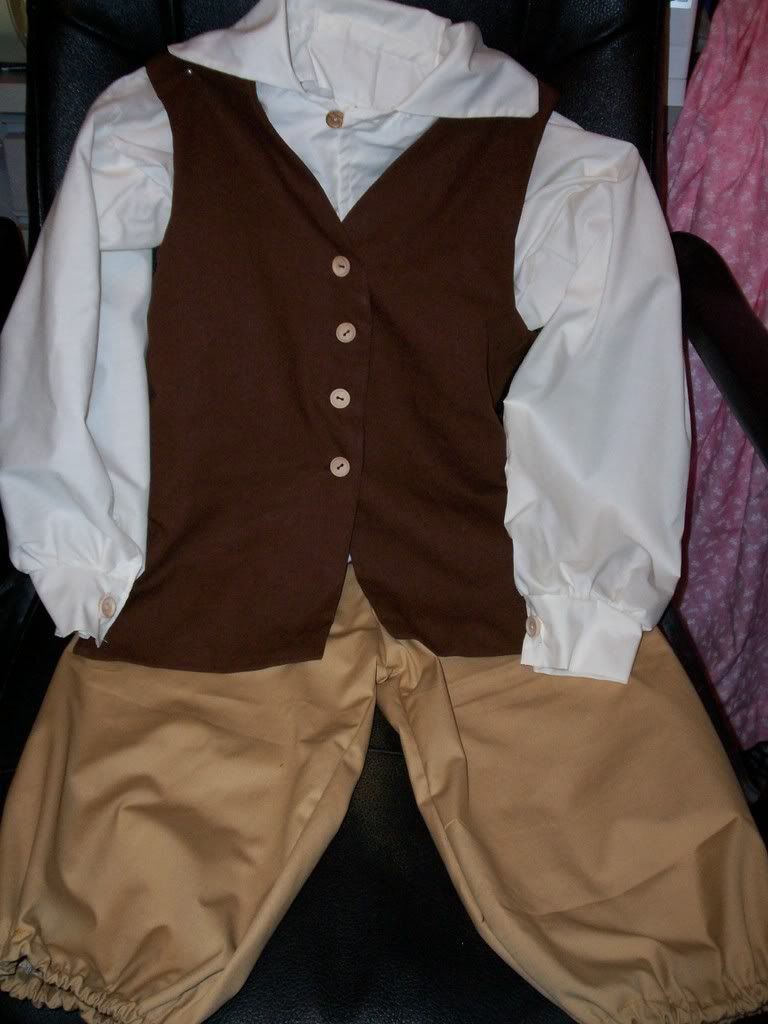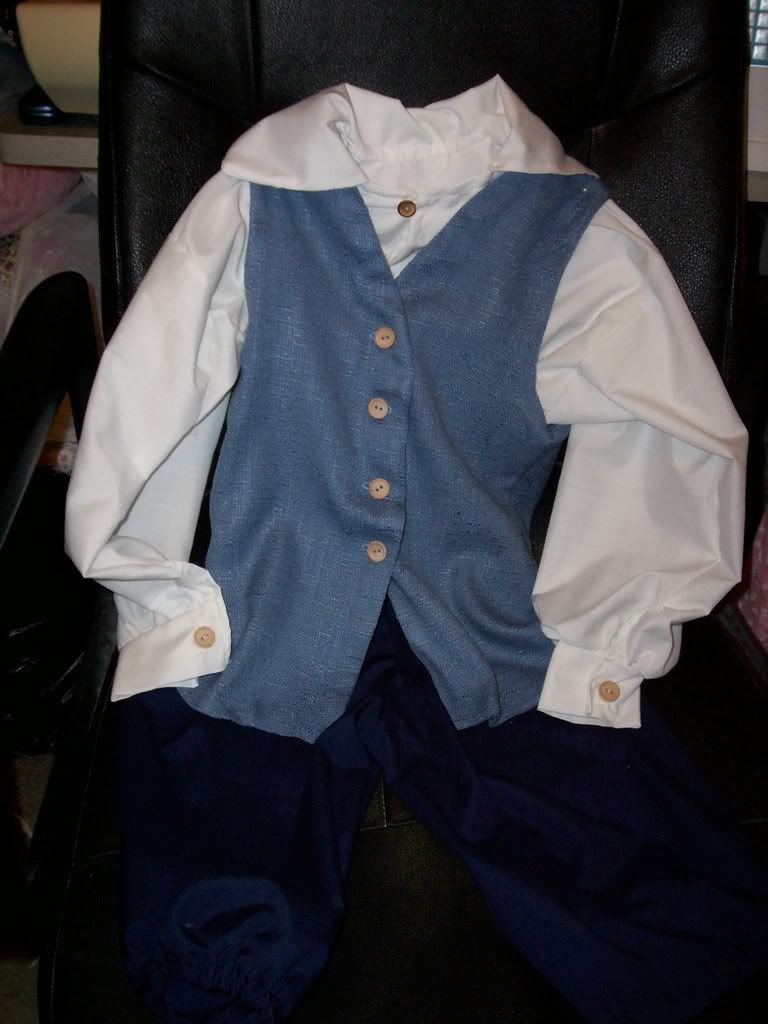 Round neck vest with notched bottom ..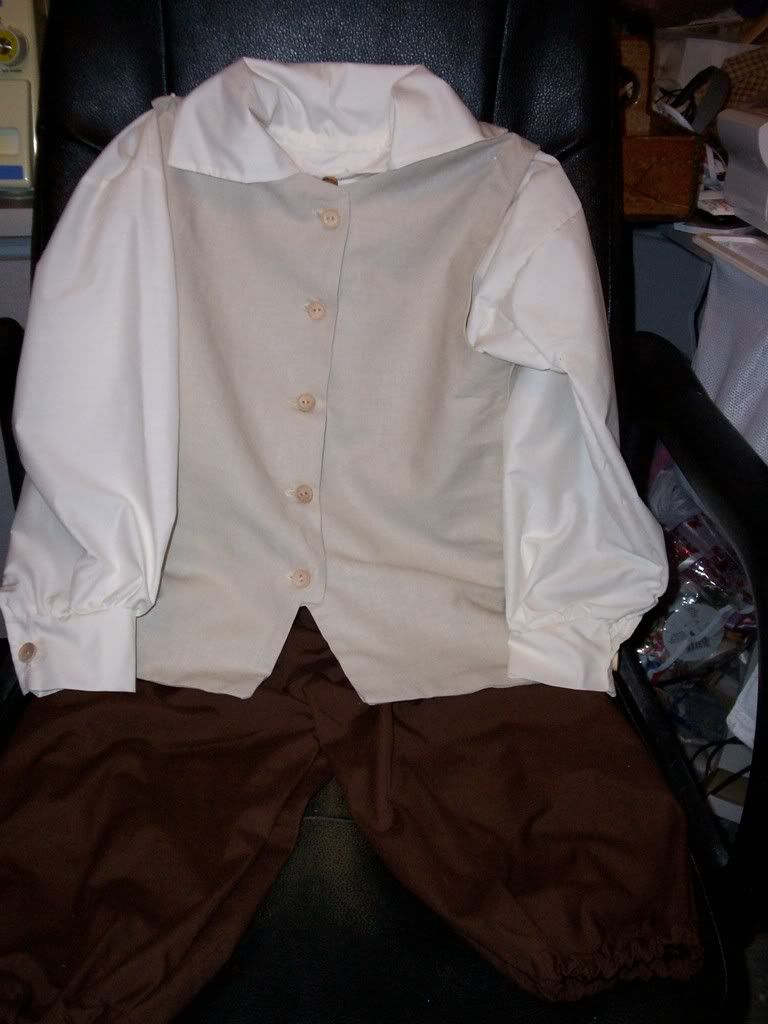 NEW >. NEW .. Boys white or ivory cotton .. belted tunic Colonial Shirt .. From a Bi-centennial Pattern..
Boys Paul Revere Shirt
Sizes 4 to 10/$16.00
NEW >.. NEW .. Boys Cotton Pioneer Work Shirt .. print or solid
Size 4 to 8/16.00
Sizes 10 to 14/ $18.00
Prints :
Sizes 4 to 8/$18.00\
Sizes 10 to 14/$20.00


Pioneer Vest for boys ( either linen blend or bottom weight)
Sizes 4 to 12/ 20.00 ..
Pioneer Knickers .. elastic waist.. made with bottom weight material..
sizes 4 to 10/ $18.00
BOYS Civil War uniform (this is NOT for reenactments .. it is not a historical pattern .. just for fun)
comes in Grey as seen(south) .. or Dark blue jacket with Royal blue pants (for the North)
Sizes 4 to 10 / $48.00
a href="http://s696.photobucket.com/albums/vv321/miashleysattic/?action=view&current=000_1997.jpg" target="_blank">
Cowboy shirts .. will come in several styles ... from work to fancier... these are historical shirts not modern.. will be available to order in your choice of solid cotton..
Vest will be linen blend, moleskin , or pleather.. (linen is actually the most historically correct .. think Lonesome Dove not
what they wore on some of the 1930/1950 movies.. )
Shown is the Drover style in black cotton ... (this is the only one I have done so far) .. it has a side placket with 5 buttons and silver buttons at the cuffs..
sizes 4 to 12/ $25.00
Vest available in soft imitation leather or suede .. or linen blend.. silver western buttons ..
Sizes 4 to 12 /$20.00

I take checks, MO, and Paypal (both CC and NOnCC)
Shipping is extra .. I ship everything first class mail ..the difference is usually very little at this weight .. and the handling is far better. I also put Delivery confirmation on each package
insurance is optional for you .. and extra depending on how much coverage you would like.
Questions welcomed.
blessings Cheri

I would be happy to share with you reasonable sites that carry Historical hats.. and other Accessories to make it fun for the boys..
Reply To This Post Return to Posts Index VegSource Home
---