Reply To This Post Return to Posts Index VegSource Home
---
| | |
| --- | --- |
| From: | Ashley's Attic 4/21/10 (vegsource dealer program) |
| Subject: | CIVIL WAR Dresses (both Long and Short sleeve ) and Pantalets for GIRLS and their dolls/BOYS Civil War Uniforms/ Sample pictures and info. inside |
| Date: | February 25, 2010 at 6:45 am PST |
Good Morning Ladies.. this is our historical outfits offering.. made pretty enough to wear to church.. but sturdy enough to wear for acting out history.. all seams are serged and ribbons fraychecked. I started making these when teaching at our local Homeschool co-op American girl/Little House classes and seen what the girls enjoyed the most and remembered fondly was what they acted out themselves in history
Welcome to the offerings of Ashley's Attic (named after my dd) I have been here are Vegsource for over10 years now.,buying and selling my personal Homeschool items.. and then as one of the original dealers selling my doll clothes and historical Girls outfits.. .. and you may check out comments on my sewing that my wonderful customers have left about my items..on the Appreciation page.. It has been a pleasure and a blessing working with the Vegsource customers.
Both addresses I may be reached at :(PLEASE email me directly .. posting under my ad might get missed)
Ashleys.attic@hotmail.com Miashleysattic@aol.com
My goal is to give you a long lasting product.. double hems.. extra button in the seams.. growing room.. ect.. all items are MADE TO ORDER... I do not stock anything .. so colors and hemlines along with small adjustments to reg. sizes are all made to create a special end product for you..

Girls Civil War Dress and Pantalets.
The dress is made to your Length measurement.. of mid calf (which is the length the young girls wore then) .. very full double layered skirt .. and the top has a large lace trimmed collar and lace and trim on the bodice.. along with a double sleeve.. traditionally this was a detachable sleeve.. in the picture it is not .. but I will be happy to make the sleeve with an elastic around the elbow so it can be detached..
The dress is made of your choice of cotton calico with either white or ivory contrast.
Pantalets are 100% cotton with lace and ribbon trim.. to the ankle..
I would recommend purchasing a straw hat and letting your dd decorate it as a go along project with this dress.. Straw hats would be the most common hat for a young girl.. I would be happy to make you a matching bow and strip of material to decorate your hat at no extra charge .. with the girls dress order..
Calico color is your choice ..
Sz. 4 to 10 // $50.00
Sz. 12 and 14/$58.00

** add a bonnet to this for only $4.00 more .. and 1.00 for the dolls ..when girls dress is purchased
Matching doll set // $10.00 with girls order or $15.00 when ordered alone.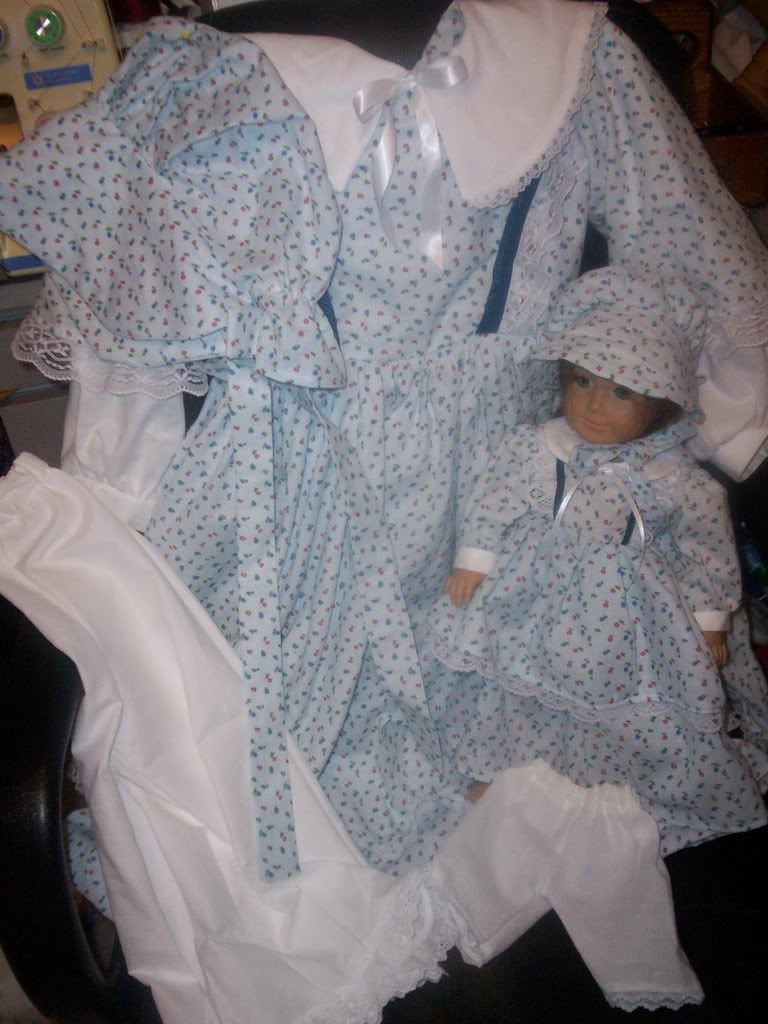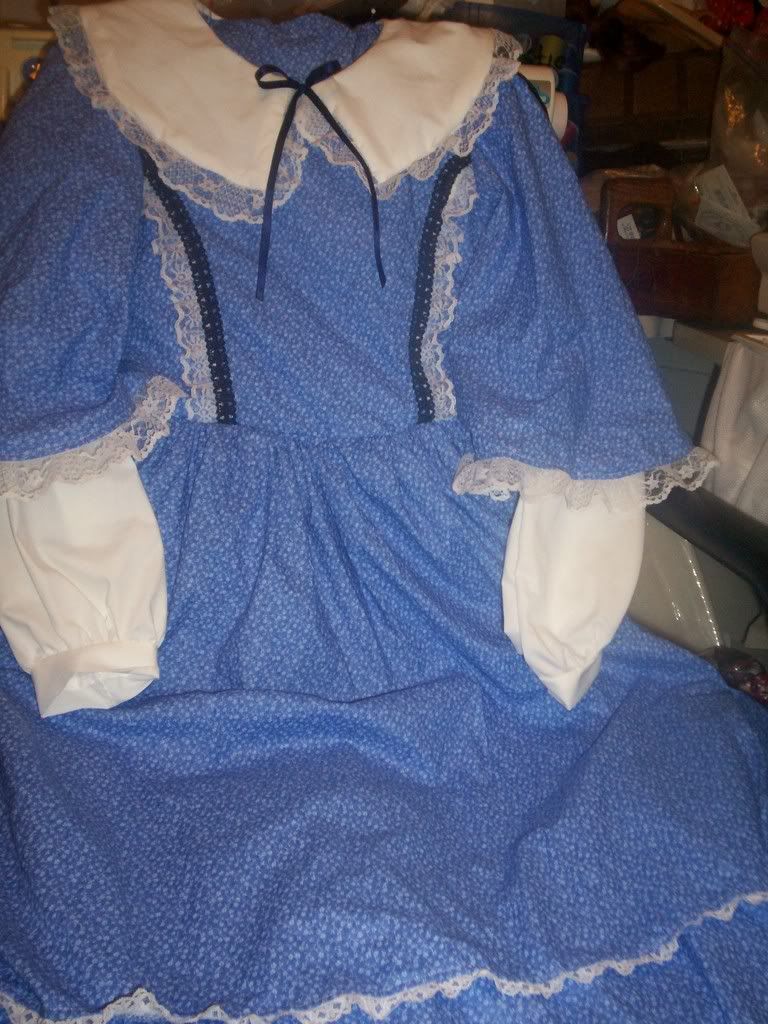 Want more lace or trim for a play or special occasion .. ask for a quote.. this customer added more braid and upgraded to a nice eyelet lace:
a href="http://s231.photobucket.com/albums/ee253/ashleys_attic/?action=view&current=000_1598.jpg" target="_blank">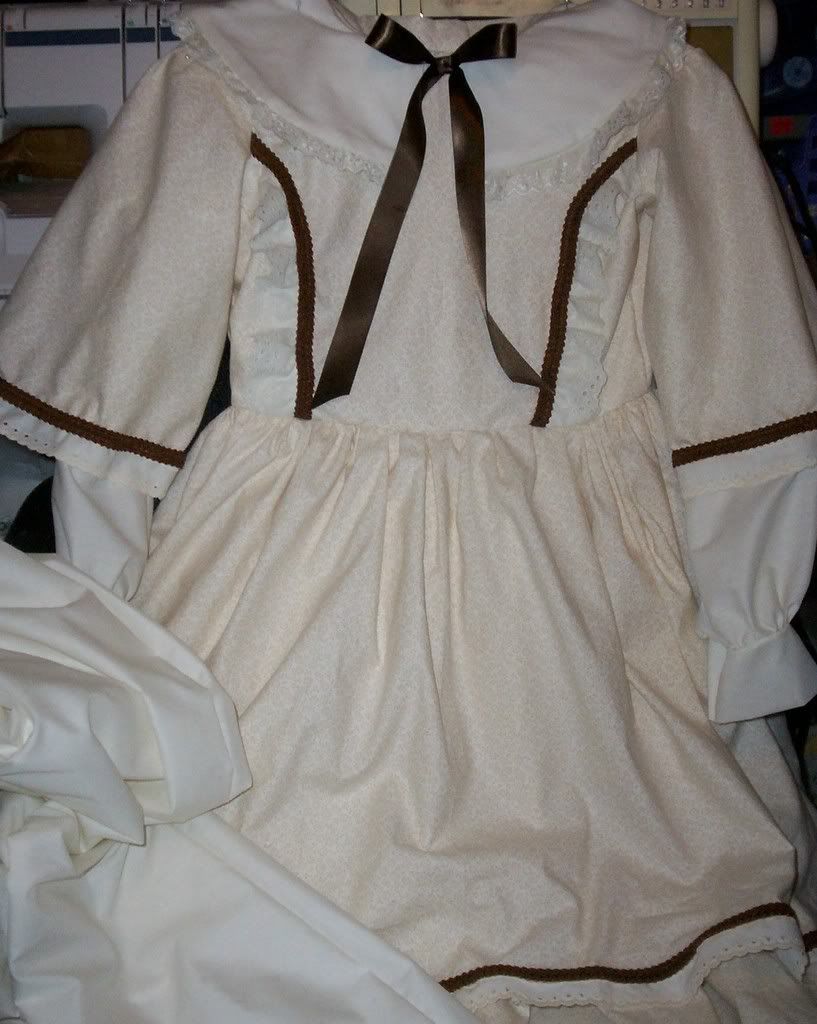 a href="http://s231.photobucket.com/albums/ee253/ashleys_attic/?action=view&current=000_1602.jpg" target="_blank">
Walking Dress with single layer or double layer .. short capped sleeves.. waistline has piping .. button back .. white or ivory pantalets.. hair ribbon .. and drawstring purse..
Single layer dress : (pantalets are included)
Size 4 to 8// $39.00 size 10 to 12 //$44.00
Double layer dress :(pantalets are included)
Size 4 to 8// $48.00 Sizes 10 to 12 // $52.00
Add $2.00 for covered buttons of same material as dress .. (5 buttons) add $4.00 for 8 buttons..
You may also add tie backs coming from the side to tie into a bow for $2.00 extra..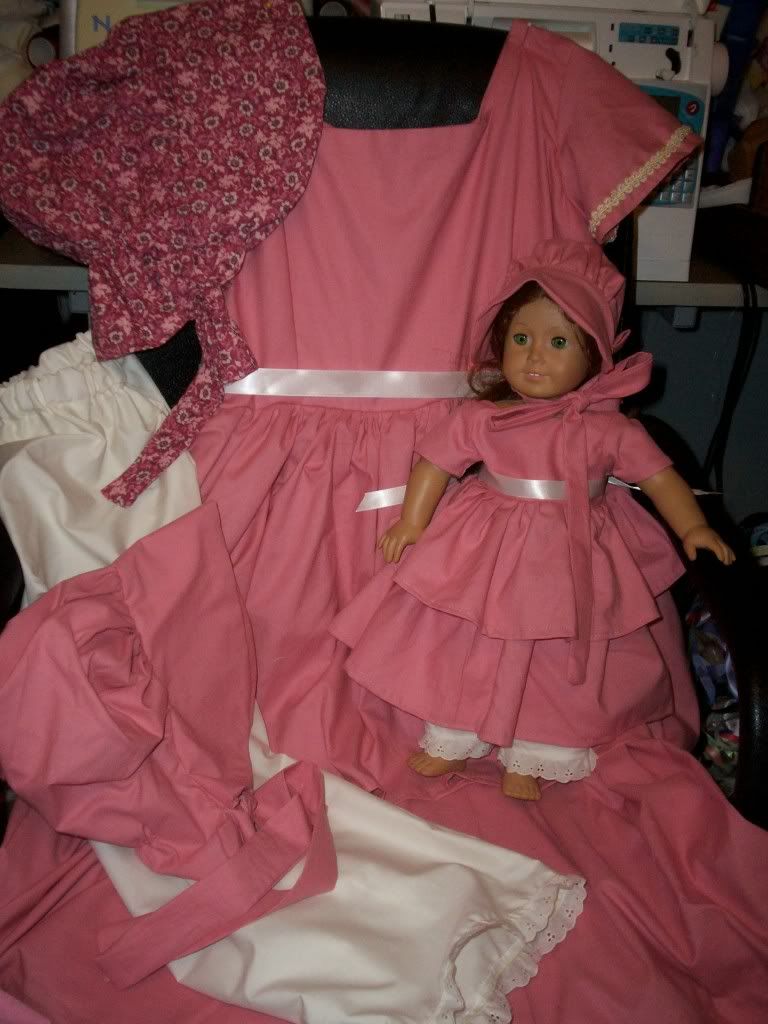 **YOUR CHOICE of having the waistline piped or wide satin ribbon ..
D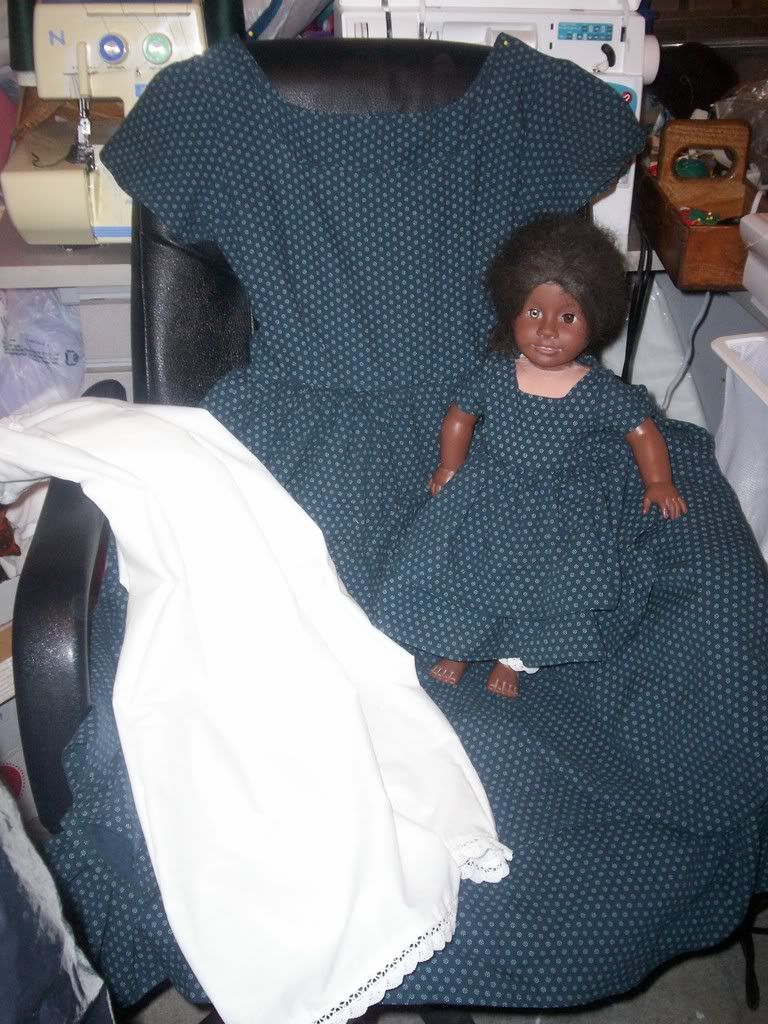 ouble layer dress :
Waistline and neckline piped: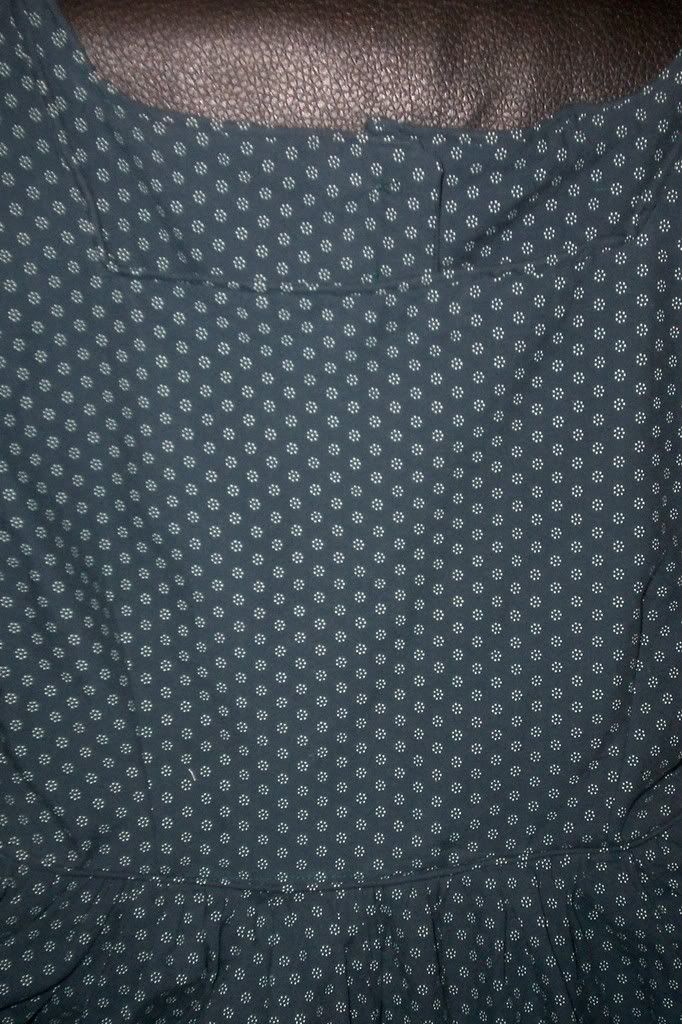 Tie back and covered buttons: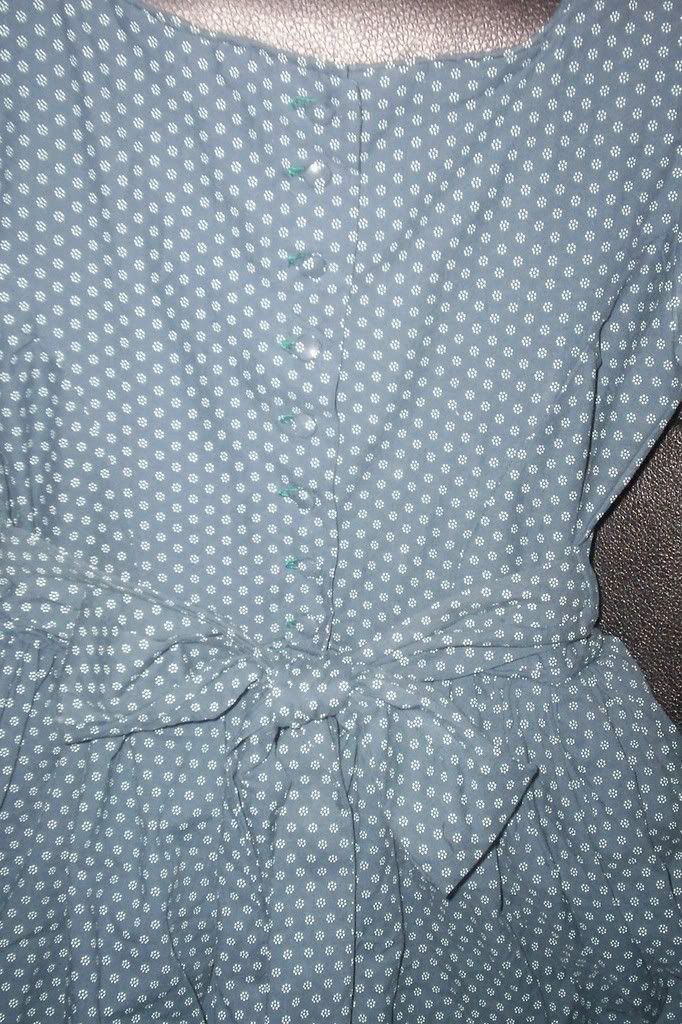 Single layer :
a href="http://s696.photobucket.com/albums/vv321/miashleysattic/?action=view&current=000_1920.jpg" target="_blank">

Till girls were around 15 they did not wear long dresses.. they were low calf w/ pantalets .. and a small hoop or very full crinolines underneath.. to hold them out..
BOYS Civil War uniform (this is NOT for reenactments .. it is not a historical pattern .. just for fun)
comes in Grey as seen(south) .. or Dark blue jacket with Royal blue pants (for the North)
Sizes 4 to 10 / $48.00
**BELT IS NOT THAT BRIGHT .. my camera made it neon sorry)


a href="http://s696.photobucket.com/albums/vv321/miashleysattic/?action=view&current=000_1997.jpg" target="_blank">
I take checks ,MO's , and Paypal. .. shipping is extra ..is priority with Delivery confirmation
.. .. insurance is extra and optional for you . but I would recommend it to protect your investment.Discounts considered for multi orders.
blessings,
Cheri
I also carry a complete line of Historical outfits for both GIRLS and BOYS.. Colonial to 1940's .. ask to see the galleries ..
PLEASE NOTE PICTURES ARE FOR STYLE ONLY.. most prints will vary. ..as will trim.

Reply To This Post Return to Posts Index VegSource Home
---