Reply To This Post Return to Posts Index VegSource Home
---
| | |
| --- | --- |
| From: | Ashley's Attic 4/21/10 (vegsource dealer program) |
| Subject: | Historical NIGHTGOWNS for GIRLS(their dolls) and MOM/ Victorian,Colonial, Pioneer, Little House,OldSW,1940's Sample pictures inside |
| Date: | February 25, 2010 at 6:42 am PST |
Welcome to Ashley's Attic ( named after my dd) offerings of Historical Nightwear.. All items come in traditional white or ivory.. or any other solid cotton color you choose.. I would be happy to quote you prices on flannel also.. These are a wonderful addition to your history studies.. and fun for the girls to curl up with their favorite books .. dressed like the characters.. rather it be Little House, American girls or Elsie Dinsmore.. all seams serged and ribbons fraychecked for a long lasting product..
I have been here at Vegsource for over 12 years now.. buying and selling my personal homeschool items.. and then as one of the original dealers.. selling my doll clothes and Historical Outfits for girls.. and now boys.. It has been my pleasure to sew for your children and deal with the wonderful ladies here throughout the the years.. you may check the appreciation page on the comments my lovely ladies have left on my behalf..
Note on Modesty.. if you notice the AG catalog .. you can see shadows of the body on some of the NG's .. They have gone to thinner and thinner cottons.. I try my hardest to give you a thicker cotton .. but please discuss this with me to see your options.
Both emails where I can reached // Ashleys.attic@hotmail.com ashleysplaymates@aol.com
** please email me directly .. these ads on this board change daily .. and will archived quickly.. and missed.

*** to order flannel now there has been an increase in the price .. $4.00 for sets with Caps and $3.00 for others for girls and 1.50 for dolls with caps and 1.00 for those w/o caps.. I had a huge stockpile of flannel I purchased at a lower price but now it is gone .. and the price of flannel is several $$ more a yard then the cotton I use I have to charge a bit more .. thank you for your understanding .

HISTORICAL NIGHTWEAR:
Little House Nightgowns and nightcaps
These are a wonderful way to play out history in a soft cotton white or ivory nightgown and matching sleep cap.. trimmed in soft lace and your choice of color or ribbon.. button front.. with ruffle at the shoulder
Package includes one NG and one sleep cap
Sz. 6 or 8/$32.00
Sz. 10 or 12/$34.00
Sz. 14 or 16/$36.00
18 or 15 inch doll sets may be ordered for only $10.00 when girls set is ordered or 14.00 when ordered alone
Adult Nightgown and Duster cap // $45.00 sizes 6 to 16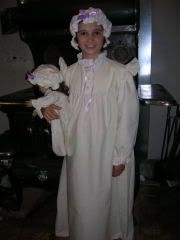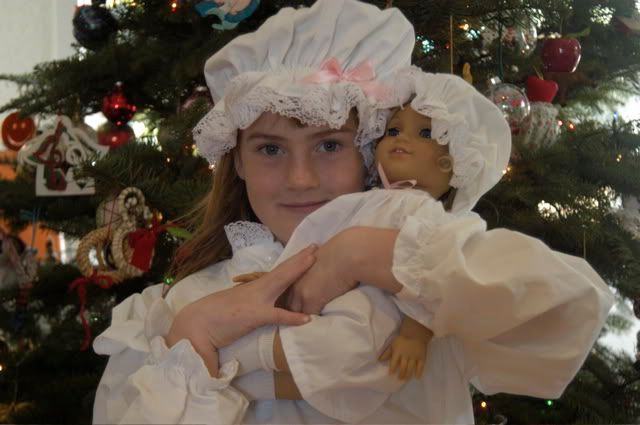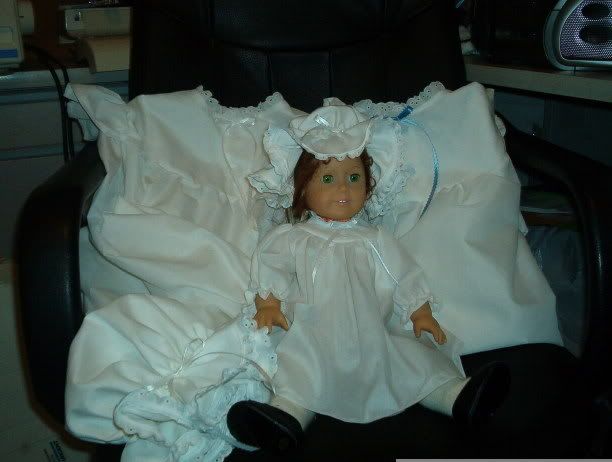 Red flannel picture :(can be made in any solid flannel color)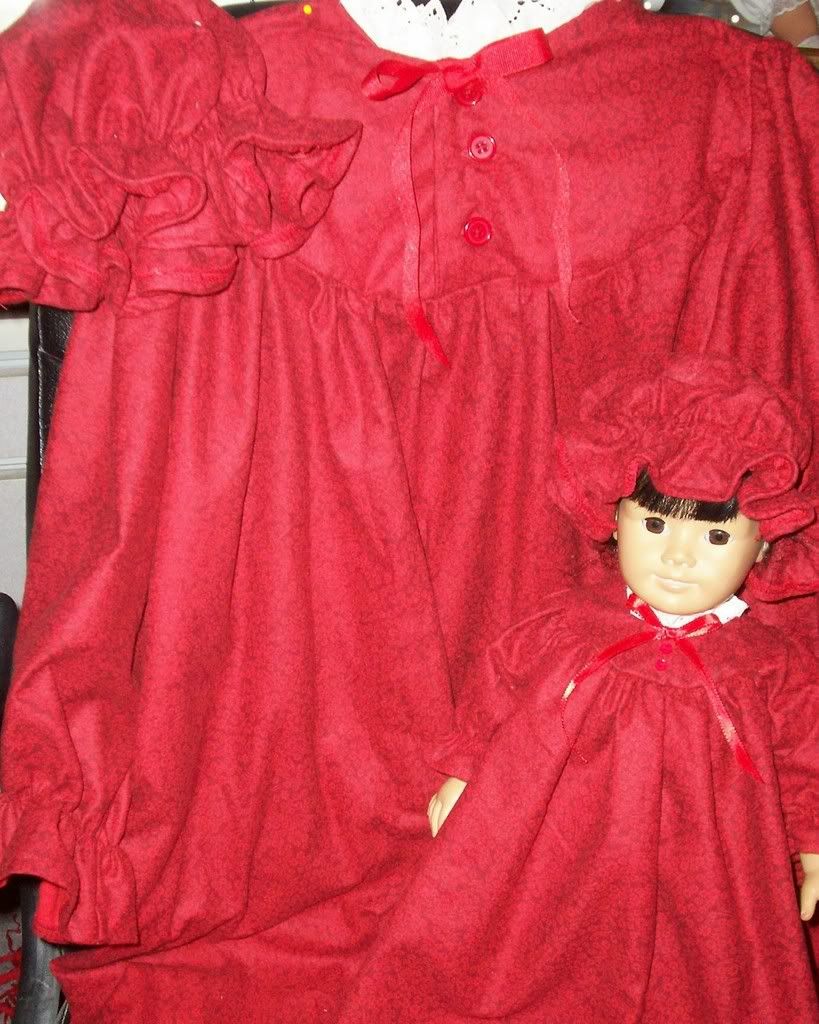 SAmantha Victorian sets
These are wonderful soft cotton with lace and ribbon trim.. traditionally white with pink ribbon .. but you may change the color if you wish.
Nightgown for Girls
Sz 2/3 to 10// $30.00
Sz. 12 to 16 // $34.00
Doll 15 or 18 inch NG is $12.00 when ordering alone .. but only $8..00 when ordering with girls ng
** please note white has eyelet lace .. ivory has cluny lace.. both soft upgraded cotton laces
Adult Victorian Nightgown // $45.00PP sizes 6 to 16 ** adult Nightgown has no shoulder ruffle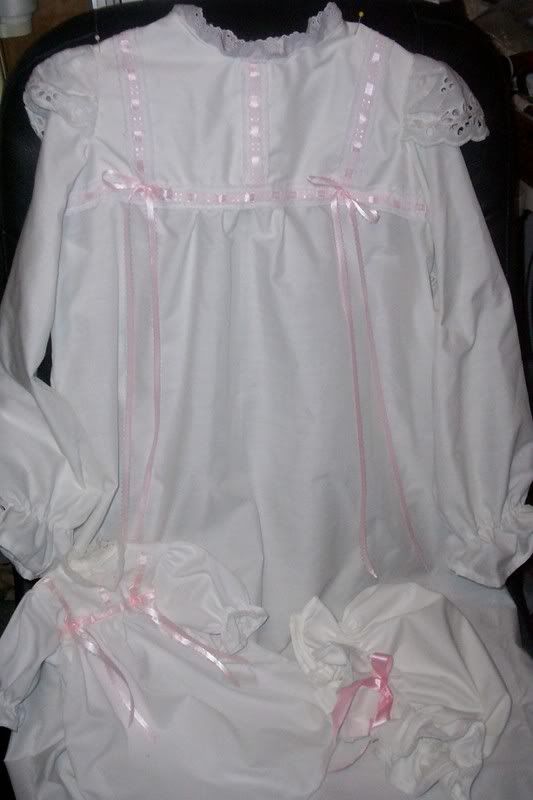 (cap not included but may be ordered separate to Samantha's NG package)
Duster cap only $8.00 w/nightgown // 10.00 lace trimmed. or $2.00 more when ordering alone.
Samantha's NG can be made in a pretty flannel print also: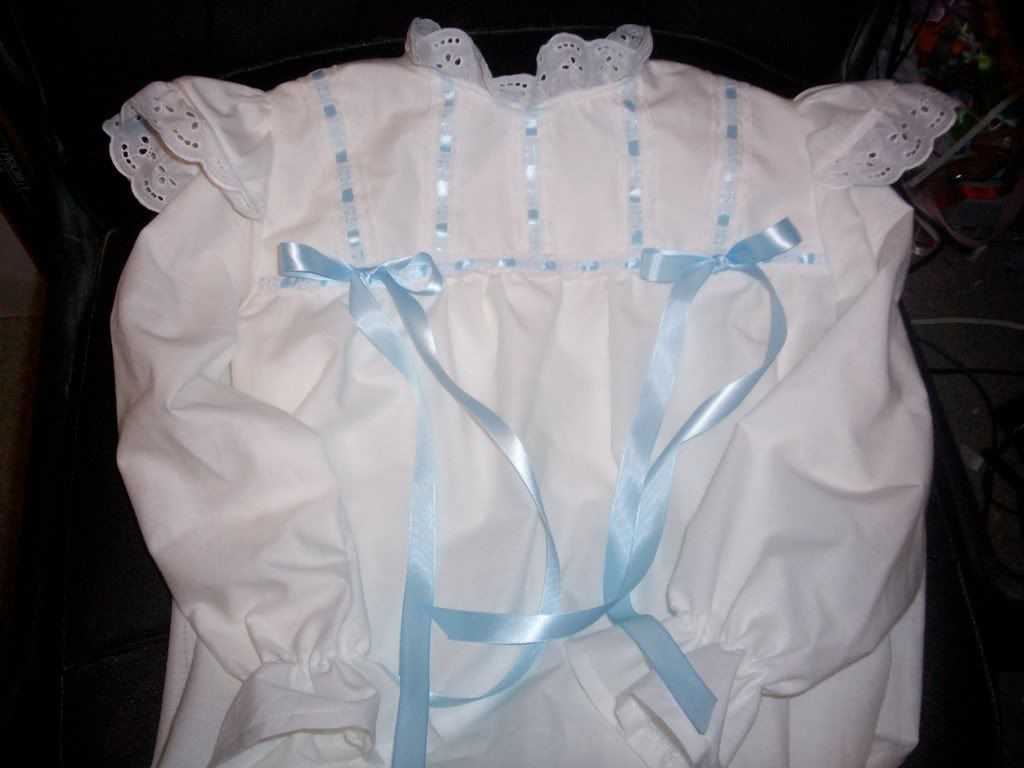 Adult Nightgown..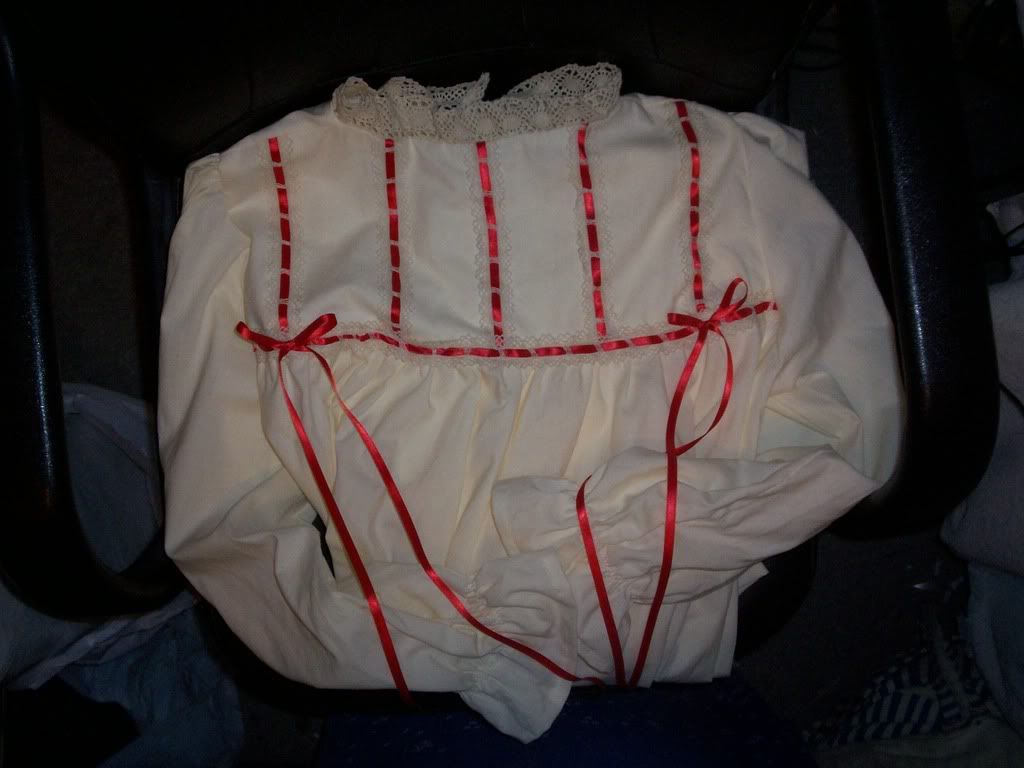 Felicity Nightgown & Lappet cap(Cap no longer offered by American girl)
made traditionally of white cotton with soft white lace and white ribbon trim.. 3/4 lenght sleeves.. this is also really a shift so it is shorter.. but most ladies want it longer.. so that is also a possibility
* also comes in ivory with ivory trim
Girls NG and lappet cap
Sz. 6 to 12 /$ 30.00
Sz. 14 or 16/$32.00
Doll 18 inch nightgown(shift) and lappet cap
14.00 when ordering separate and $10.00 when ordering with girls set
Lace is soft cluny lace for both white and ivory
Adult size Colonial shift and lappet cap //$45.00 sizes 6 to 16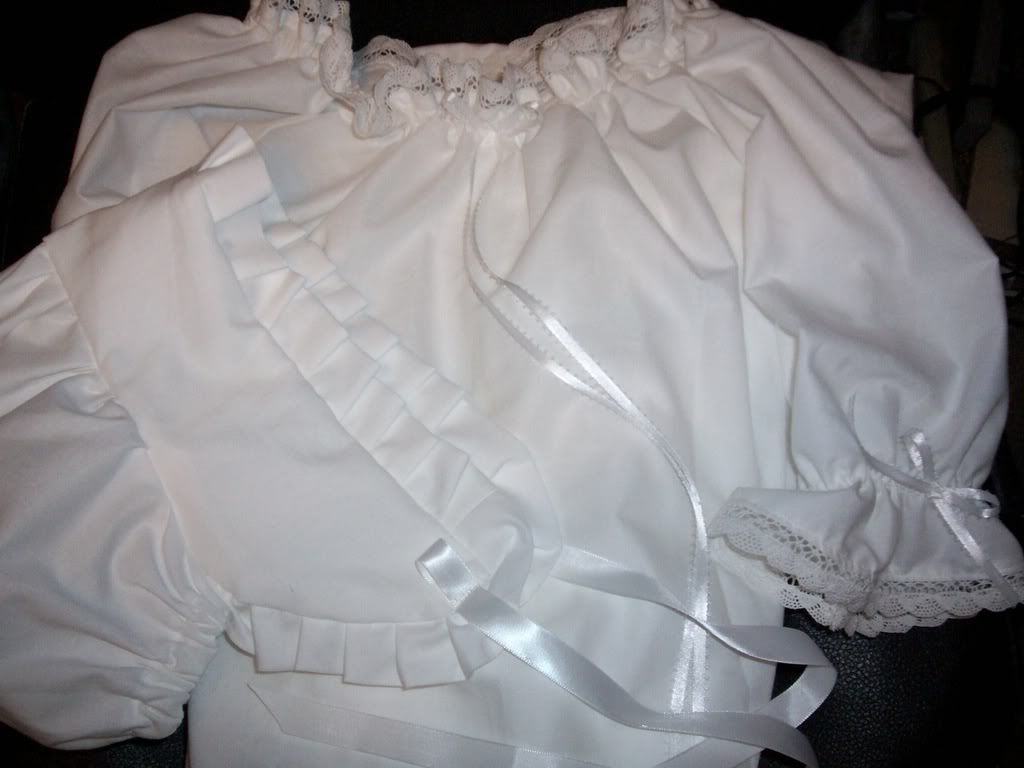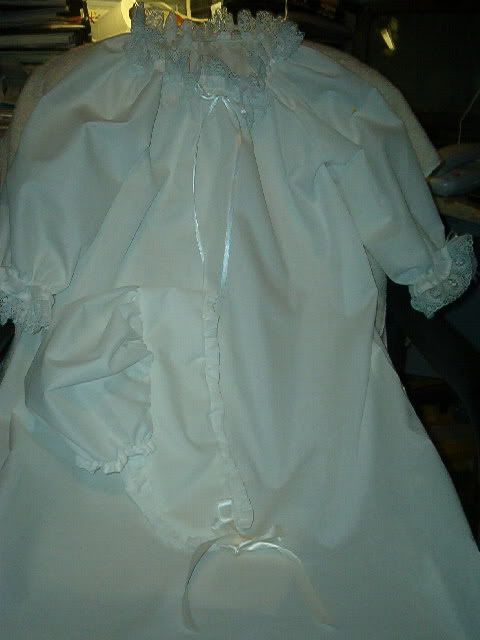 ivory :

Molly's Pj's (red & white stripe in cotton or your choice of solid flannel)**at this time I do not have a source for the red/white stripe material .. the PJ's can be made in other colors
Sz. 4 or 6/ $28.00
Sz. 8 or 10/$30.00
Sz. 12 or 14/$32.00
matching 18 or 15 inch doll set is only $10.00 when ordering girls outfit or $14.00 when ordering alone..
Adult size PJ's // $45.00 sizes 8 to 16


Josefina's Nightshift ( made of soft cotton trimmed in eyelet .. red ribbon)
Sz. 4 to 12//$28.00
Sz. 14 and 16// $30.00
Optional reboza of southwestern material $8.00 extra
Doll Nightshift only $8.00 when ordering girls and reboza only 2.00 extra .. $12.00 to order alone.
Adult sizes 6 to 16 Josefina Nightshift //$45.00

Kirsten's Pioneer White Nightgown with blue stitching and blue ribbon ( may be made in white cotton for warmer climates also)
Sz. 2/3 to 12//30.00
Sz. 14 and 16/ $32.00
Doll nightgown to match is only $8.00 when ordering girls set or $12.00 when ordering separate..
Adult sizes 6 to 16 Kirsten Flannel Gown //$45.00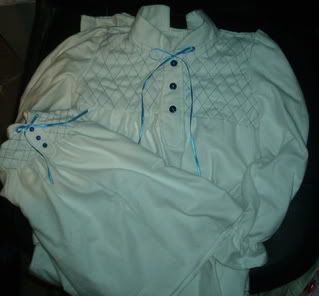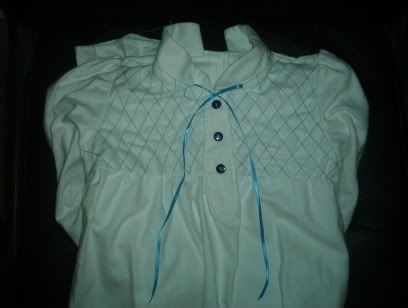 In cotton with blue stitching :


Kirsten's Nightgown in white cotton with pink stitching .. (this can be made in your choice of color of stitching and ribbon)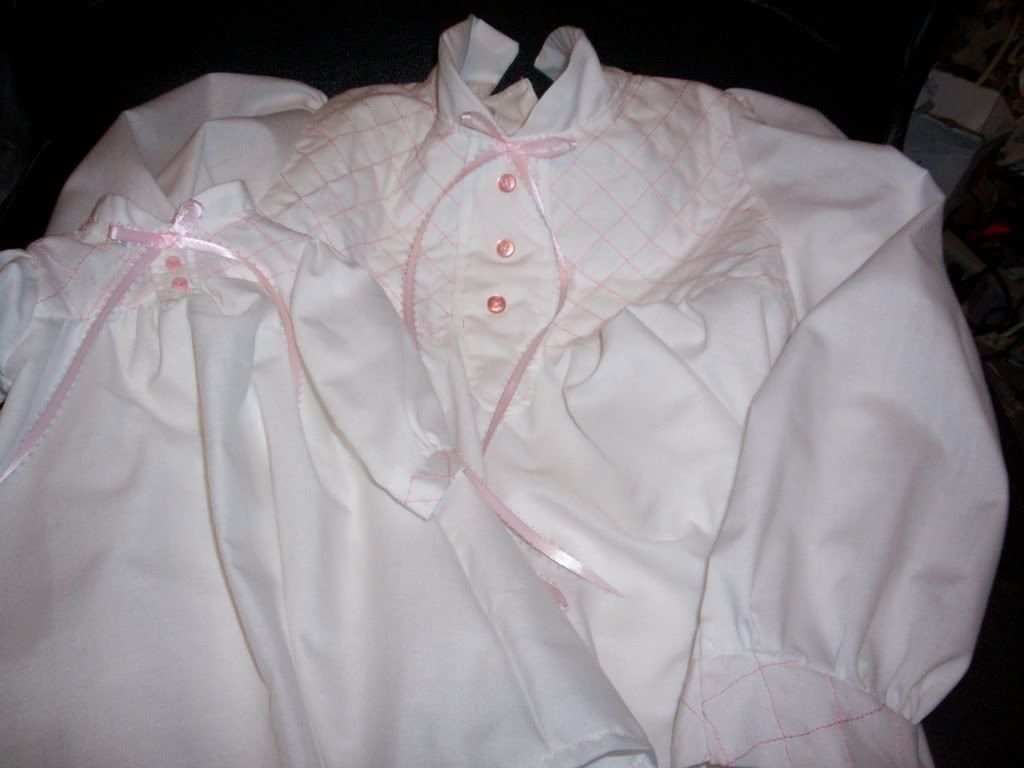 I take checks, MOs , and Paypal (both CC and NonCC)
Postage is a bit extra .. insurance and DC are offered at PO prices and are optional
Blessings Cheri
I can also make a copy of Addy's Nightgown if interested.. it would be the same price as Kirsten's .
I am sorry I do not have a website.. but do have two lovely galleries of pictures I would love to send you to further check out my work.. (thanks and hugs)
Reply To This Post Return to Posts Index VegSource Home
---