Reply To This Post Return to Posts Index VegSource Home
---
Welcome to the offerings of Ashley's Attic (named after my dd) I have been here are Vegsource for going on 12 years now.,buying and selling my personal Homeschool items.. and then as one of the original dealers selling my doll clothes and historical Girls outfits.. .. and you may check out comments on my sewing that my wonderful customers have left about my items.. It has been a pleasure and a blessing working with the Vegsource

emails where I can be reached : ashleys.attic@hotmail.com / Miashleysattic@aol.com/ ashleysplaymates@aol.com it is always a good idea to email at least one AOL.. and the hotmail.. .. PLEASE EMAIL ME DIRECTLY.

** all dresses are ankle length or to your base of neck to floor measurement.. Pioneer girls mostly wore unfitted dresses often with growth strips.. although I make bloomers they were not really popular till the Victorian era.. Pantalets that usually showed at the bottom of the dress were what girls wore.. along w/ a chemise.. Smock type pinafores were the most popular w/ large pockets.. to keep their clothes cleaner. Small calico prints were the most common in reds, blues ,greens and browns.. (think natural dyes) but since these should be fun.. I would be happy to make them in your dd's favorite colors. The Price quoted for a size 16 is up to 49.75 inches .. longer would require an extra length fee.
Have fun and let your DD's be a Pioneer Girl .. and act out History:



Bonnets only : in solids, Ginghams , or Cotton calico prints.. $8.00 girls / Adult sizes $10.00/doll size 4.00 each
Purchase in bulk for Co-ops or BD parties 10 bonnets for $50.00 (girls size ONLY) adult size 10 bonnets for $60.00 dolls size 10 for $15.00

Pioneer and Prairie Dress sets for Girls and matching for dolls:
Style #1 is the Original set I started out.. long full sleeves, round yoke, full body.. matching calico bonnet. full solid pinafore with wide ruffle bottom ..pocket
Size 4/ 45.00 (pinafore will not have a ruffled bottom.. this style runs very large .. and 4 is as small as it comes)
Sz.6/$50.00
Sz.8/$52.00
Sz. 10 or 12/$54.00
Sz. 14 or 16/$58.00
Matching doll set is $12.00 when ordering with girls outfit or $16.00 when ordering alone.

Style #2 is short puffy sleeves trimmed in ribbon bow.. with full skirt.. matching calico bonnet.. solid apron ( white aprons are embroidered with the same color as the main color in the dress) .. (you may also choose a smock style pinafore w/o ruffle for $4.00 more instead of the apron) drawstring purse for church..
Style #3 would be the Long sleeve version of this dress //NOW AVAILABLE IN LONG SLEEVE TOO >> SAME PRICE..
Sz. 2/3 // $42.00
Sz. 4 to 10 /$46.00
Sz. 12 or 14/$50.00
Matching doll set is $10.00 when ordering with girls or $14.00 when ordering alone.
picture of long sleeve dress: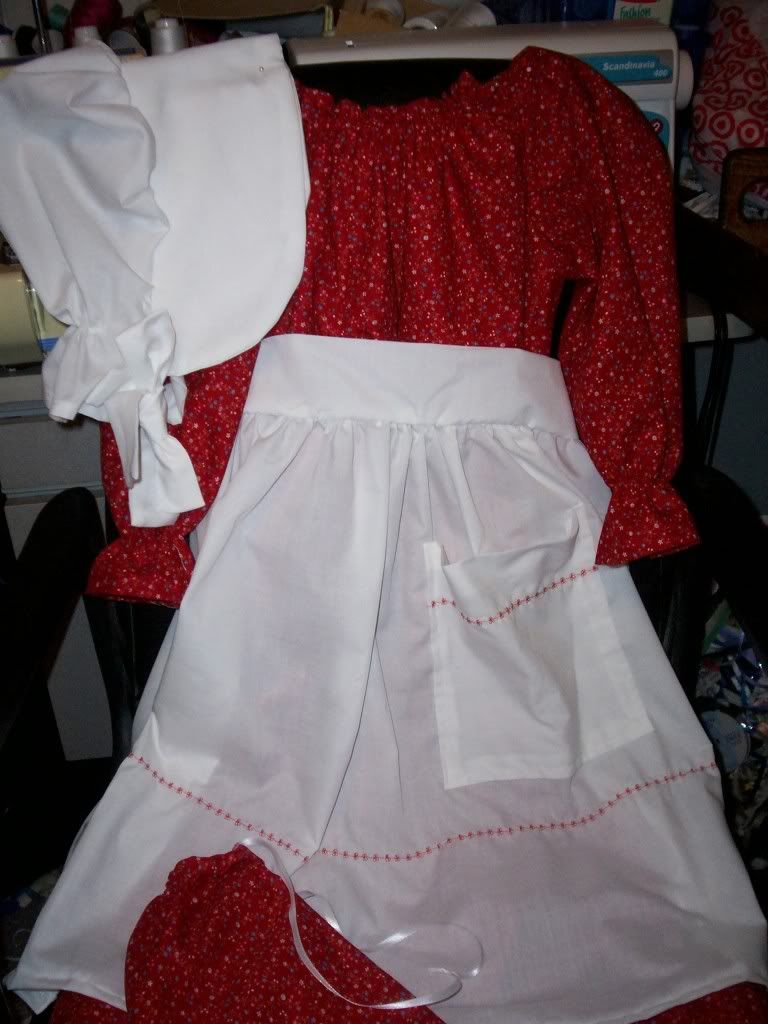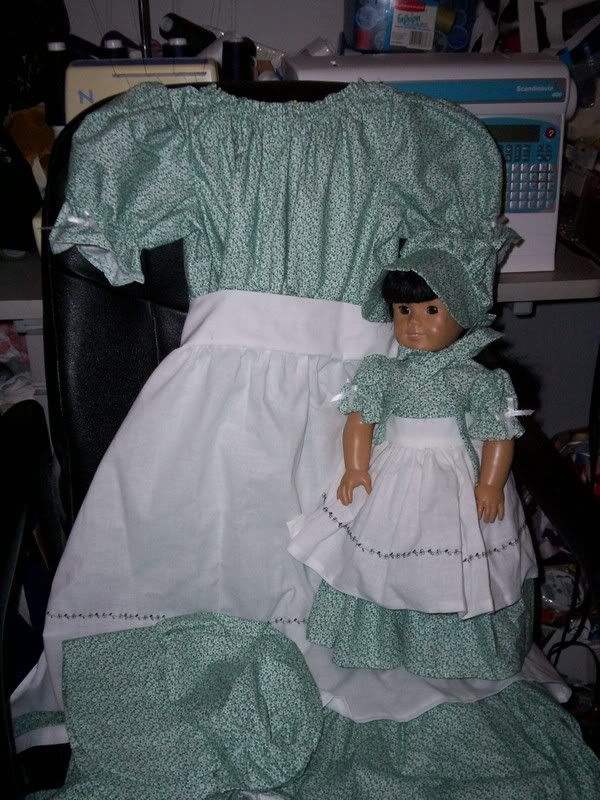 a href="http://s231.photobucket.com/albums/ee253/ashleys_attic/?action=view&current=000_0992.jpg" target="_blank">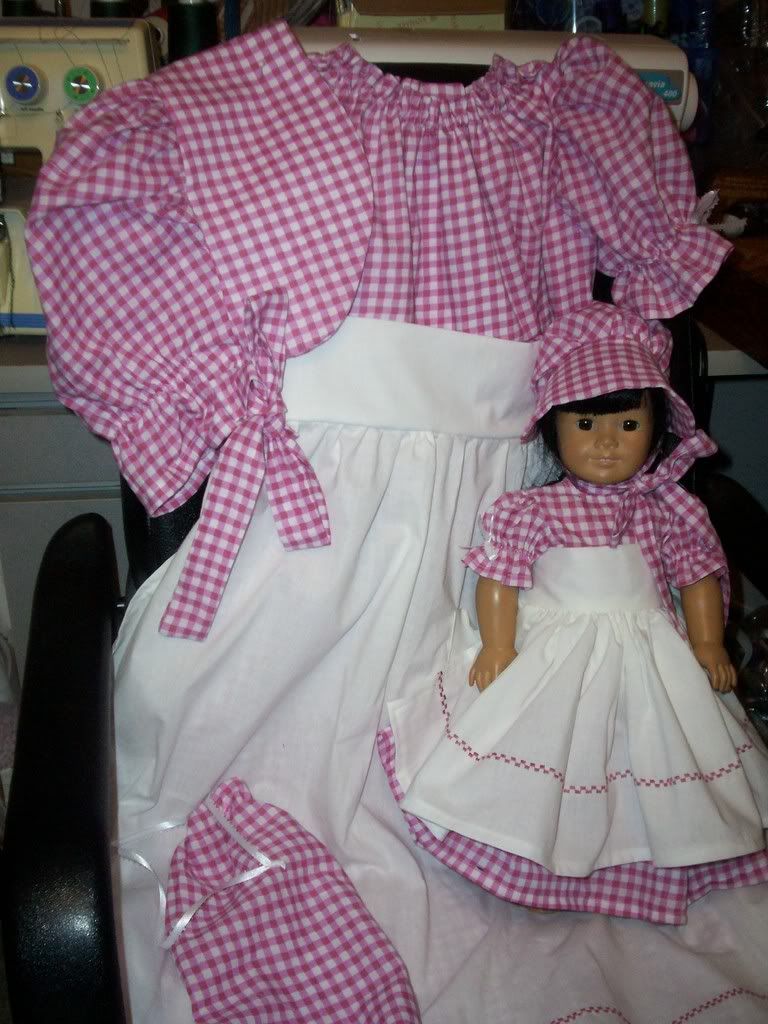 Style #4 ..
Similiar to Kirsten's pioneer Birthday dress .. semi-fitted bodice .. lined for modesty.. full ankle length skirt .. button back .. and short puffy sleeves.. Matching bonnet .. and Apron style pinafore.. .. available in Pink, Red, blue, violet, and yellow gingham. Or you may order it in small flower cotton gingham.(like the dark green picture)
sizes 4 to 14// $48.00

When ordering this set you may order the Wreath for girls for just $5.00 more .. and $3.00 for dolls.. Or you may exchange the bonnets for the wreaths..
Matching doll set is $12.00 when ordering with girls or $15.00 when ordering alone.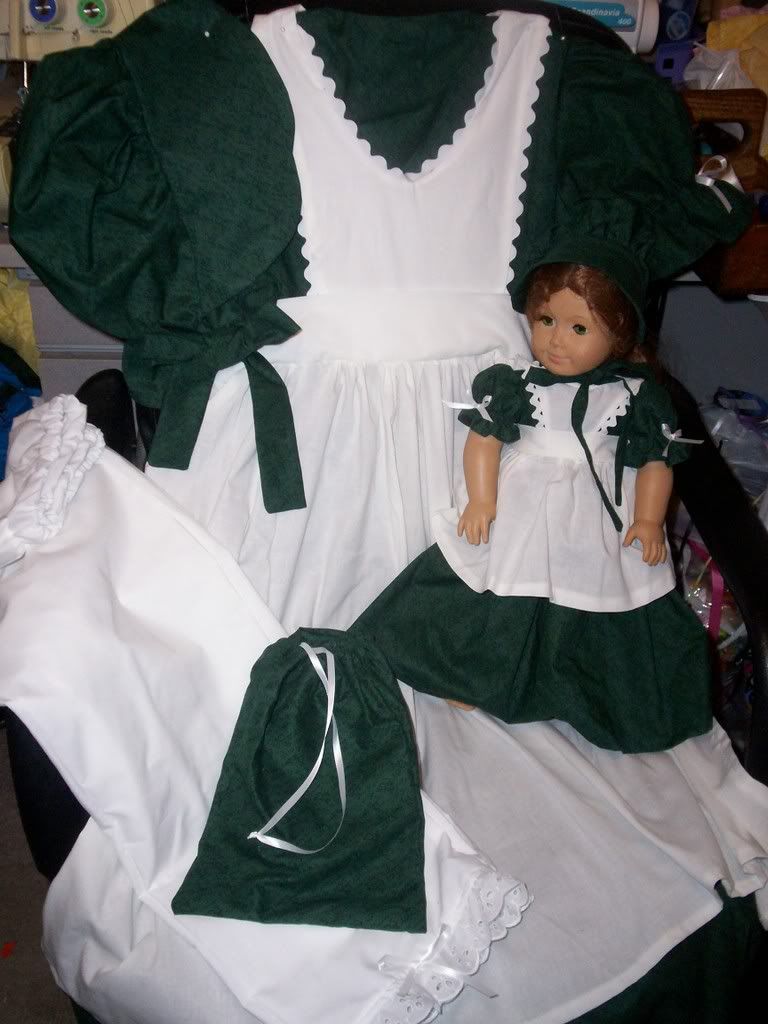 Style #5
Calico School dress , Long sleeve dress with gathered upper bodice to waistband .. button back traditionally in red calico but may be purchased in other calicos colors.. includes plaid shawl.. bonnet.. and white or solid color apron ..
Sz. 4 or 6 /$55.00
Sz. 8 or 10/$58.00
Size 12 or 14/ $60.00
White pantalets trimmed in eyelet lace /$12.00
18 inch 4 piece doll set to match 12.00 with girls order .. or 16.00 to order by itself..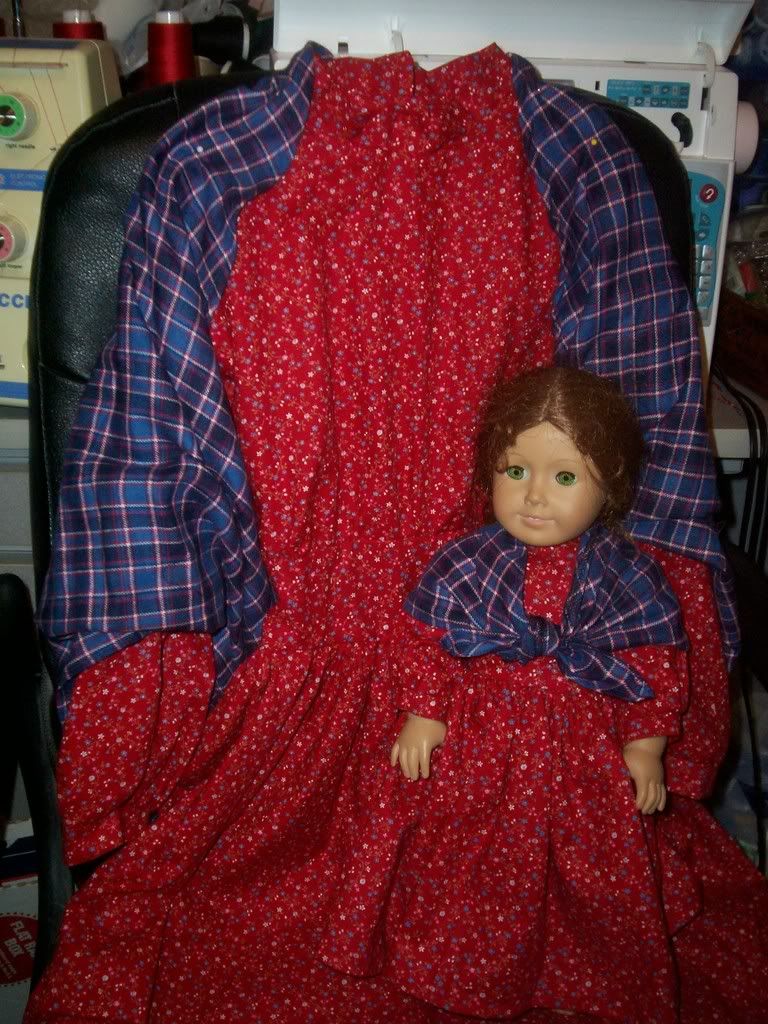 Style #6.. is the same dress as above .. with lined bodice.. button back .. standup collar.. and cuffs..
matching bonnet.. and square neck pinafore embroidered .. (the top of this pinafore is lined.. )
Sizes 4 to 12/$48.00
Sizes 14 and 16/ 52.00

Style #7 Long sleeve girls dress , with bonnet and apron .. this is made similar to Kirsten's "meet" dress.
Sizes 4 to 10//$48.00
Sizes 14 and 16 // $50.00
Matching doll set .. 10.00 with girls dress.. or 15.00 when purchased alone..
** girls dress is long sleeves .. button back .. loose fit .. white collar and cuffs ..
Blue prints may vary depending on what is available at ordering time.. can be ordered in other colors and prints
Style #8
Calico or solid print dress with lined bodice and peterpan collar.. loose fit .. long or short sleeves.. matching bonnet ,drawstring purse.. pinafore with button back .. lined bodice
Sizes 4 to 14 / $48.00
Size 16 / $52.00
Matching 18 or 15 inch doll dress ,bonnet and pinafore is only $12.00 with girls order or $15.00 when ordering separate.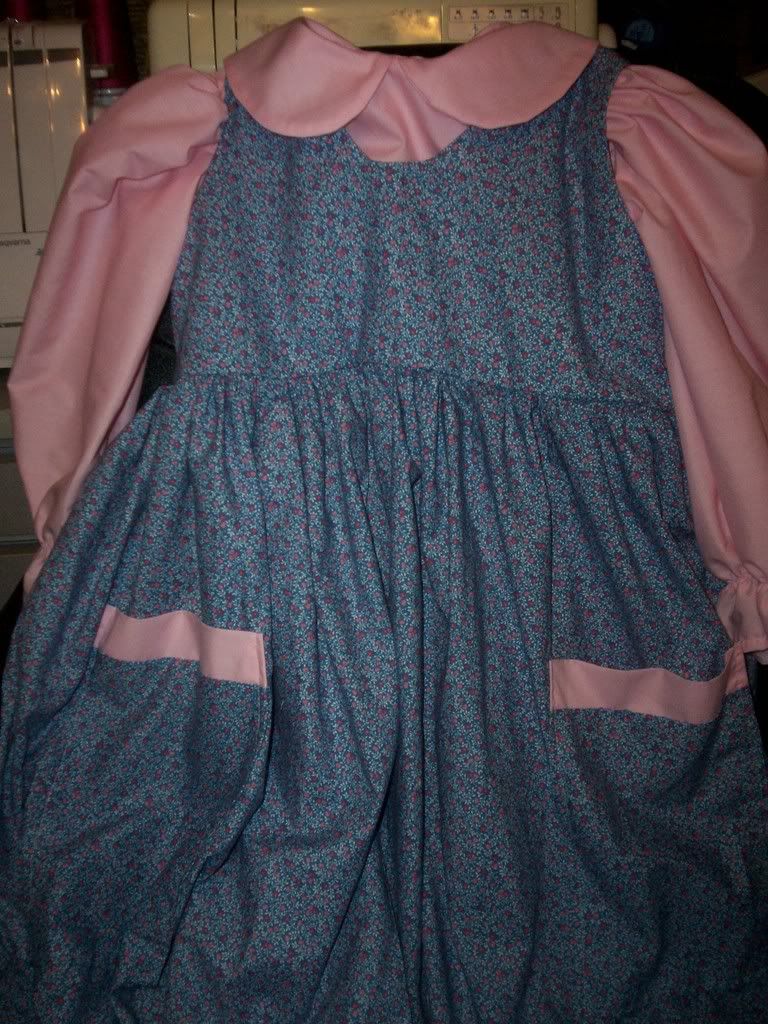 Customized for your DD .. this little girl told her Grandma exactly what she wanted.. a flower on her pinafore with no stems.. and trimmed pockets.. ask if your little girl has something special in mind.. it may not be what you think Laura and Mary would wear .. but it is fun to give them fun clothes to play dress up in .. especially when it's the desire of their heart..
Western Expansion Pioneer dress .. style #9
a bit different from the other dresses .. pinafore a bit shorter .. but still a full smock version (can be made longer on request)
dress is fully lined with semi-fitted waist.. and peterpan collar.. button back .. (NO ELASTIC AT ALL IN THIS STYLE)
cuffs on short or long sleeves.. full skirt .. solid pocket pinafore .. bonnet and drawstring purse
Sizes 4 to 16 /$48.00
Matching 18 inch doll set (dress,bonnet, and pinafore) $12.00 with girls set or $14.00 when ordering alone.

EXTRAS ... ( these may be ordered alone..)
Solid or print calico cotton bonnet/ $8.00 when ordering alone .. or $5.00 when ordering with girls set.
adult size $10.00 or $8.00 extra when ordering with adult dress.
Pantalets... Made with 100% cotton ,elastic waist , and cotton lace trim .. ribbon bow trim/$12.00
Bloomers sizes 4 to 8 only .. Made with 100% cotton .. elastic waist and calf .. eyelet trim and ribbon bow/$12.00
Sleep caps / $10.00 with lace /$12.00
Lace added to bonnet 1.50 extra ..

Pioneer Dresses for Moms
Style #1 is very similiar to the Dress #1 in the girls style ..with matching bonnet.. but as you can see mom's pinafore has a fitted waist ..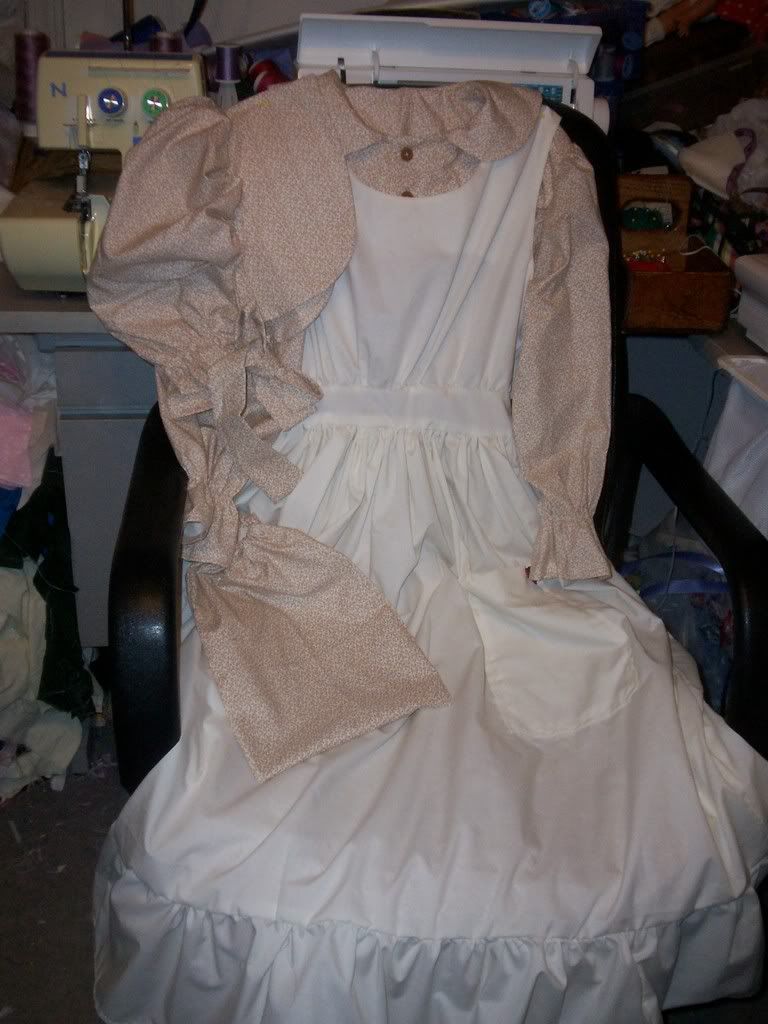 Sizes 6 to 12// $65.00
Sz. 14 to 18/ $75.00

Same style with fitted cuffs and apron and bonnet
Sz. 6 to 10/ $50.00
Sz. 12 to 14/$55.00
Sz. 16 to 18 /$58.00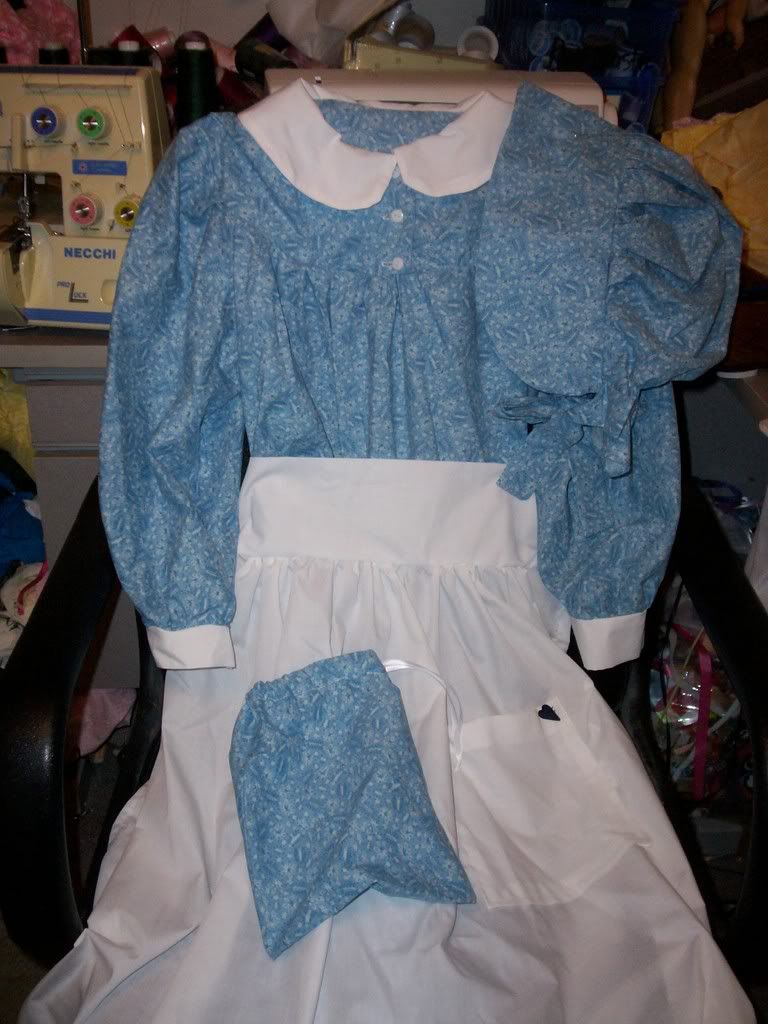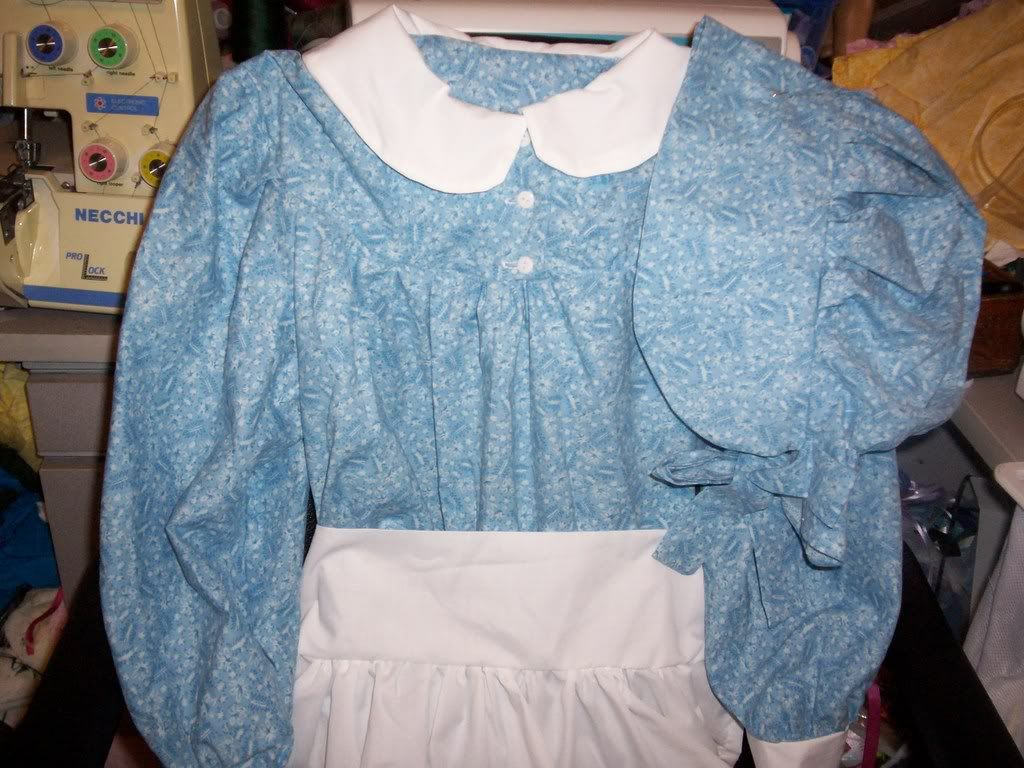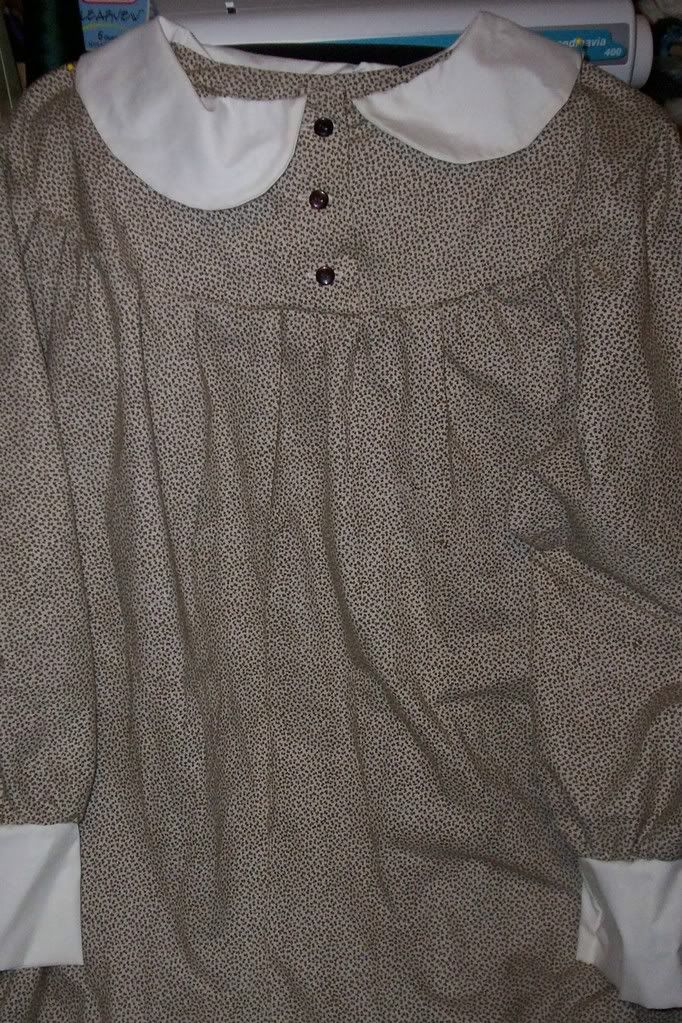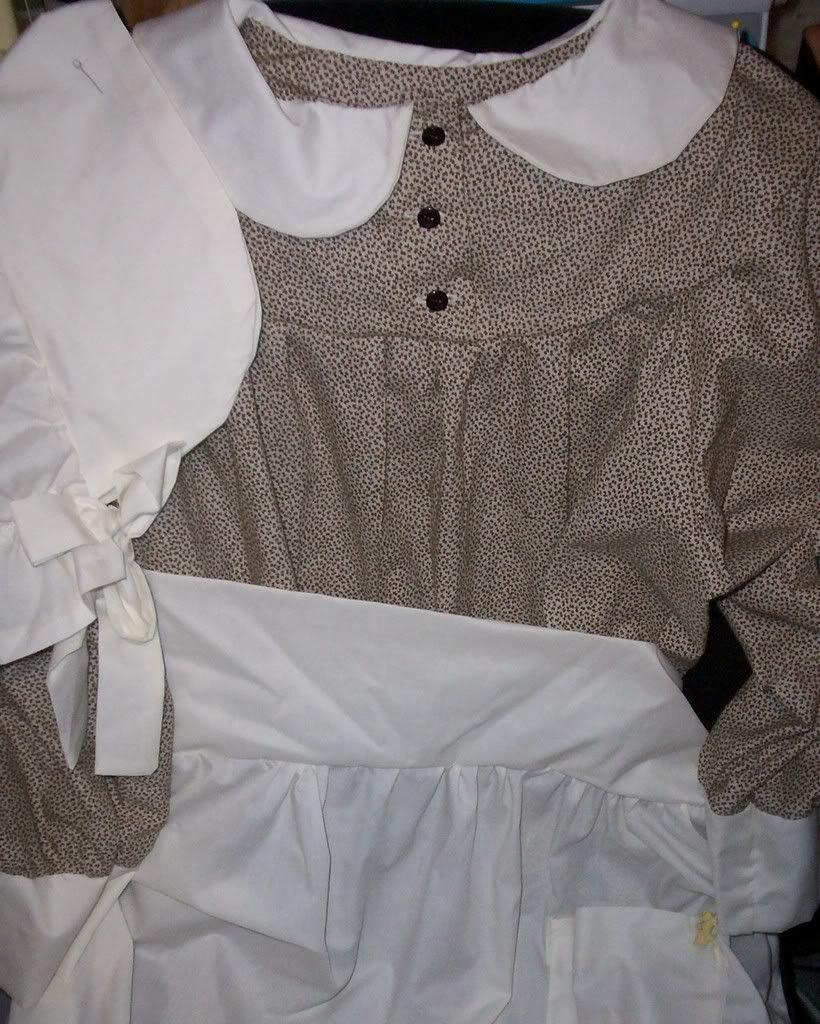 ** with adult sizes there is a small charge for extra lenght .. for over 5'7" .. it requires making the pattern longer.. thanks.
style #6 can also be made in adult sizes :
$60.00 for sizes 4 to 12
$65.00 for sizes 14 to 18
56" base of neck to the floor max.. small charge for extra length ..

Adult pantalets cotton with eyelet trim (white or ivory) / $18.00.
Little House on the Prairie Nightgowns and Duster/Sleep caps

Little House Nightgowns and nightcaps
These are a wonderful way to play out history in a soft cotton white or ivory nightgown and matching sleep cap.. trimmed in soft lace and your choice of color or ribbon.. button front.. with ruffle at the shoulder
Package includes one NG and one sleep cap
Sz. 6 or 8/$32.00
Sz. 10 or 12/$34.00
Sz. 14 or 16/$36.00
18 or 15 inch doll sets may be ordered for only $10.00 when girls set is ordered or $12.00 when ordered alone
** add a pair of flannel pantalets for warmth for only $7.50 extra... sizes 4 to 12 or 10.00 for sizes 14/16
Adult Nightgown and Duster cap // $45.00 sizes 6 to 16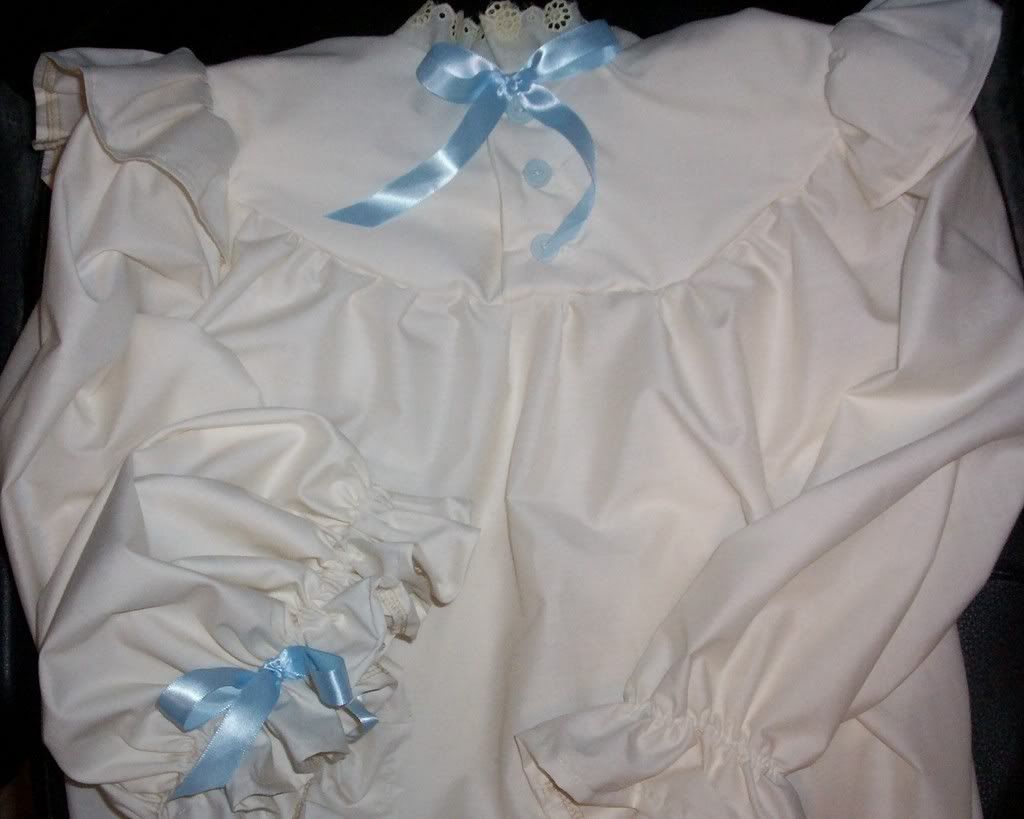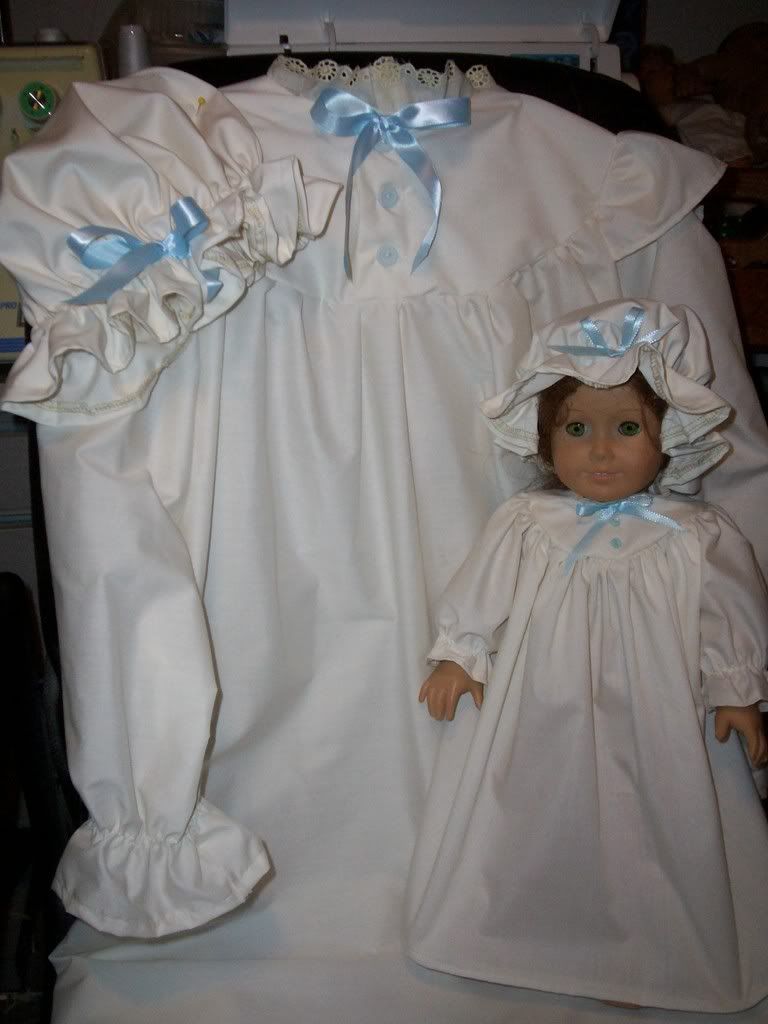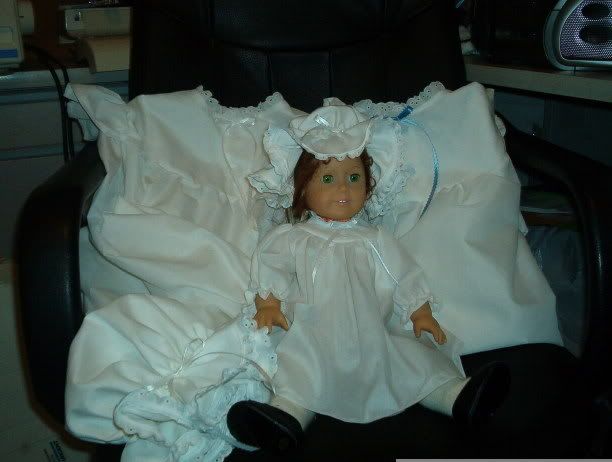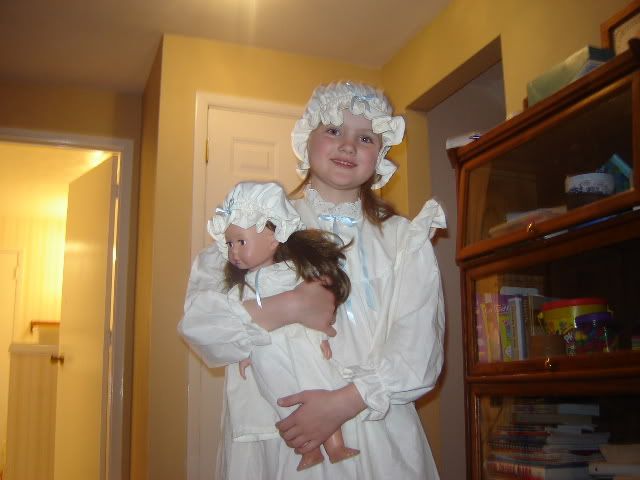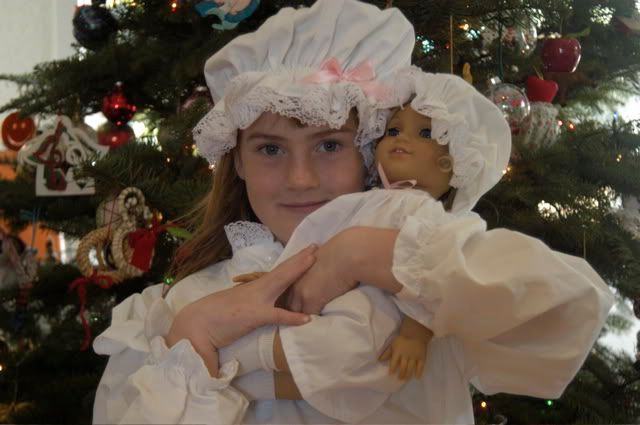 In flannel : available in colors and prints ..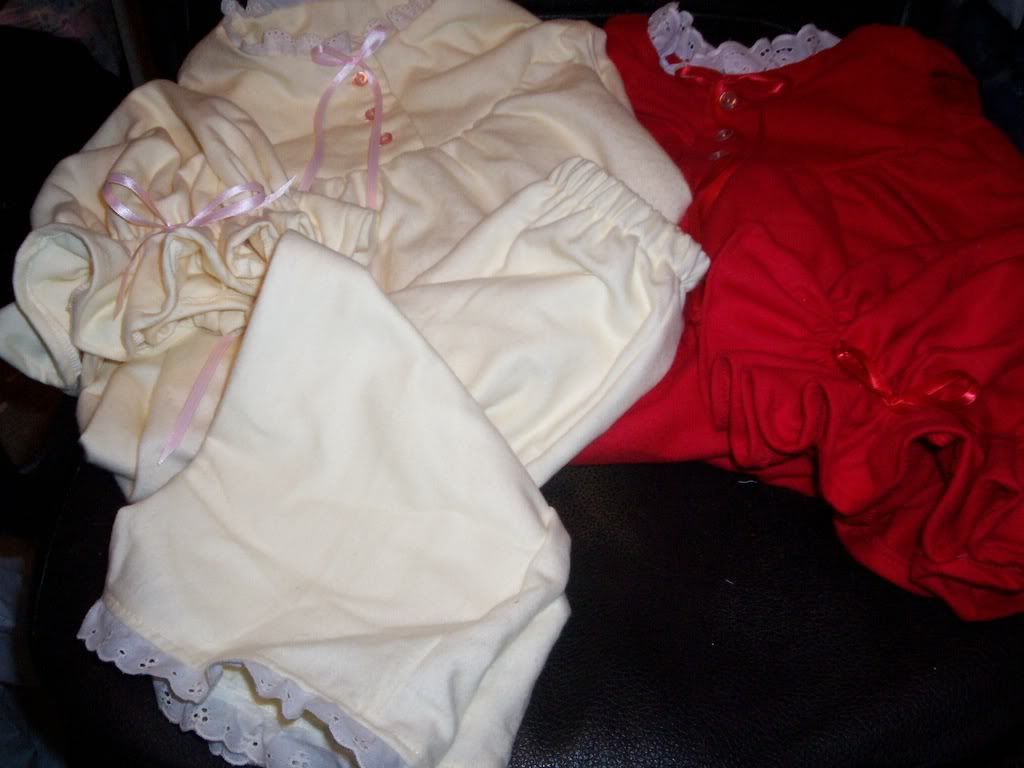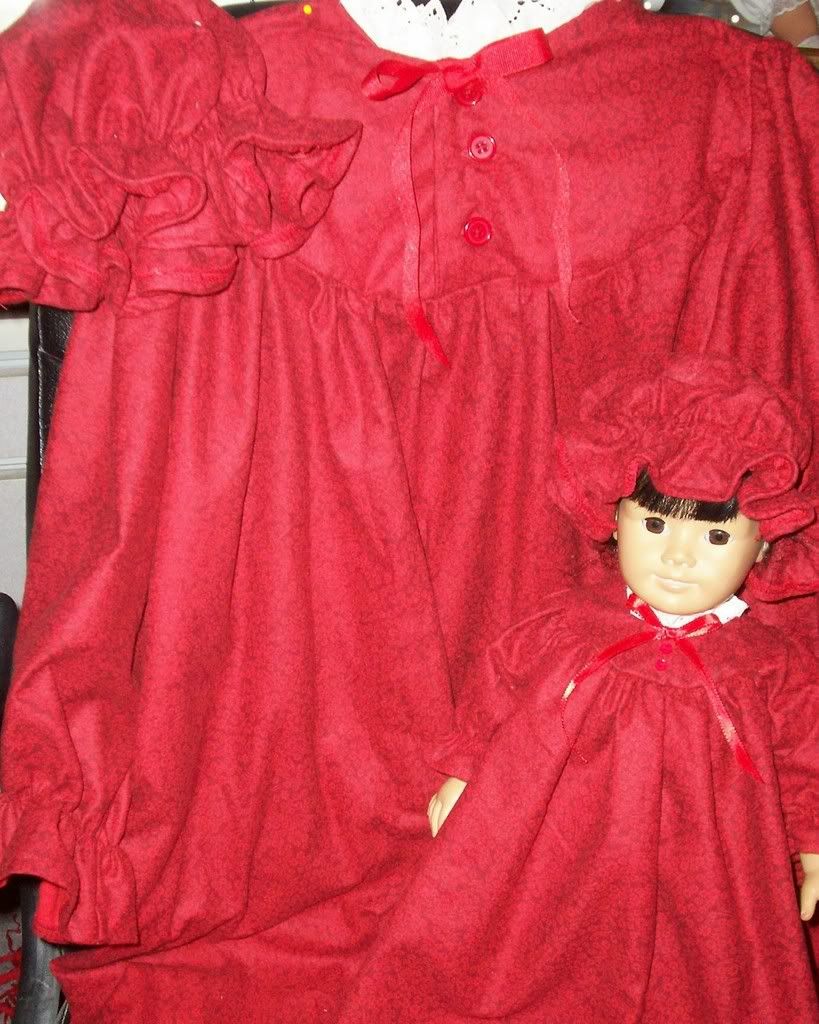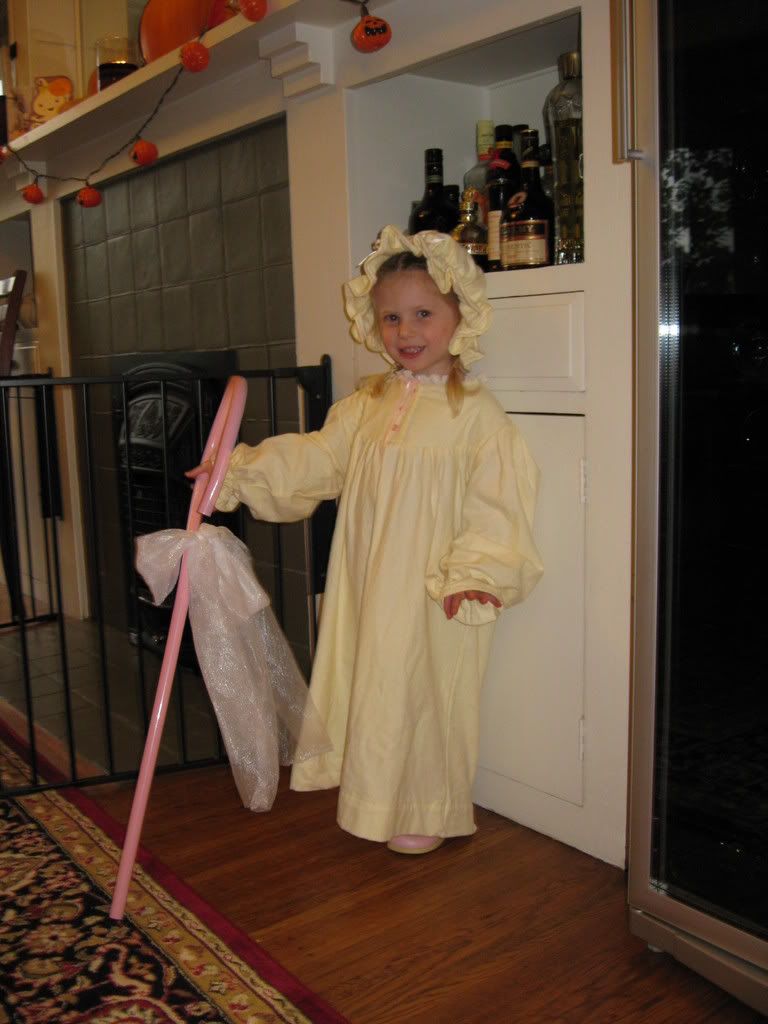 made in print flannel:

White flannel Nightgown with blue stitching for girls..fashioned after Kirsten's Pioneer Nightgown this may be made in shorter sleeves and cotton for warmer climates
Sz. 4 to 12//30.00
Sz. 14 and 16/ $32.00
Doll nightgown to match is only $6.00 when ordering girls set or $10.00 when ordering separate..

** nightgown is not the flannel used in reg. sleep wear.. with the flame retartant in it.. the fabric shops here that material is too thin and itchy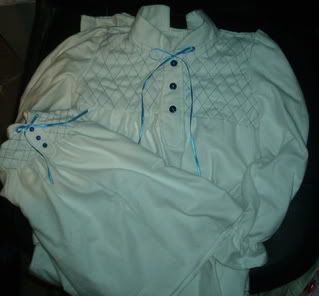 Kirsten's Pioneer Nightgown in white cotton with pink stitching .. (this can be made in your choice of color of stitching and ribbon)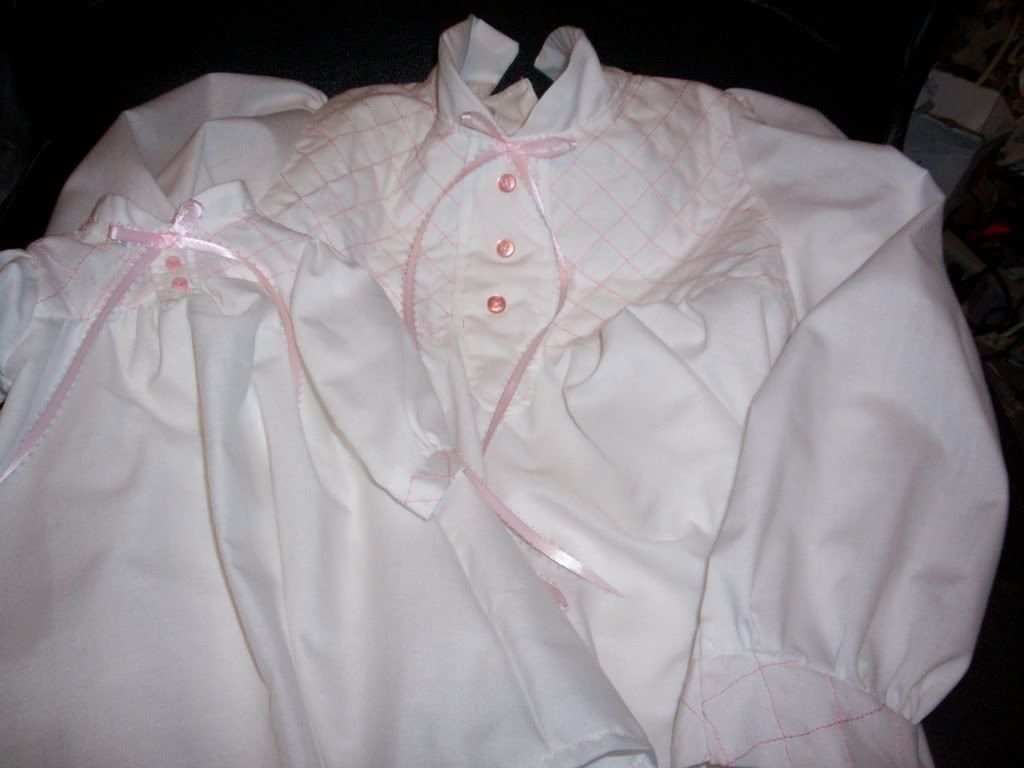 Frontier Shirts for boys/men
Frontier Shirt .. White or ivory cotton with or Without a collar (your choice) .. leather tie ..
Sz. 4 to 8 boys // $18.00
Sz. Mans extra small and Small // 20.00
Sz. Mans Medium / $25.00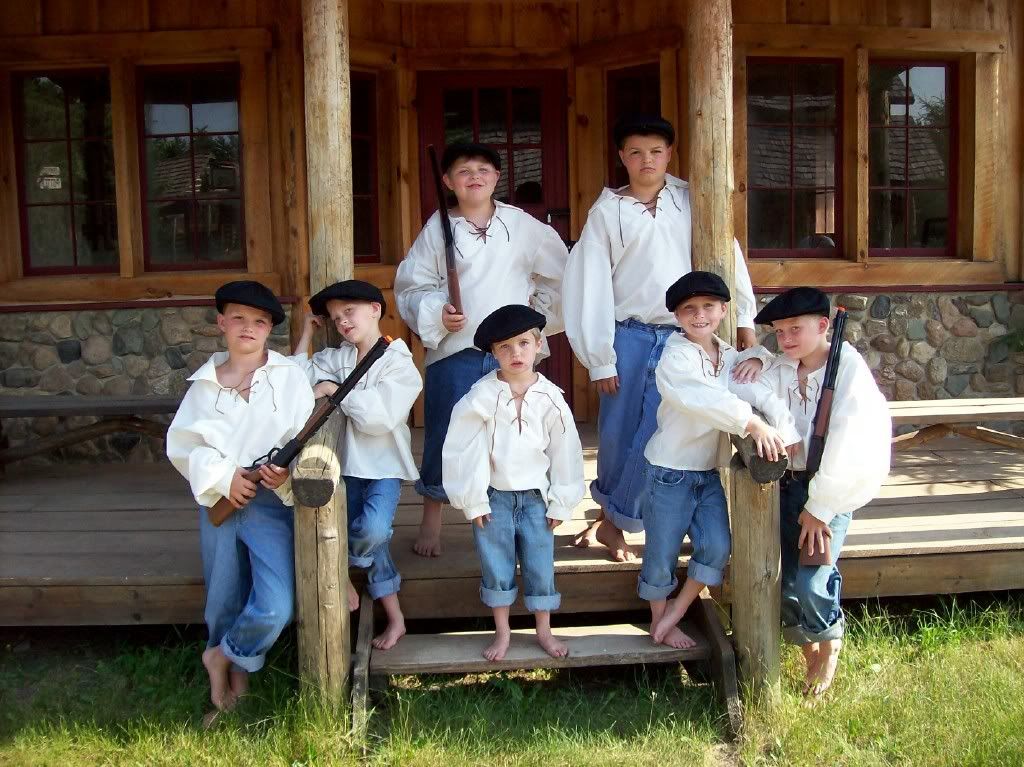 I take checks ,MO's , and Paypal.
Shipping is extra and includes delivery confirmation.. I am sorry .. Paypal users will now have to pay for insurance also ..
blessings,
Cheri
Ask to see our entire Historical Line from Colonial to 1940's and everything in-between..
Native American, Pioneer, OldSW, Regency, Civil War .. for GIRLS and BOYS
PLEASE NOTE PICTURES ARE FOR STYLE ONLY.. most prints will vary. as will trim..
Reply To This Post Return to Posts Index VegSource Home
---