Reply To This Post Return to Posts Index VegSource Home
---
All seams are serged and ribbons fraychecked.. I have been here at Vegsource for 11 years now.. buying and selling my personal homeschool items.. and as one of the original dealers selling my doll clothes and girls Historical outfits.. (now boys added) You may check out comments from the beginning of the appreciation board about my items my wonderful customers have left on my behalf.. it has been my blessing and pleasure to sew for your daughters and now sons throughout the years
Welcome to Ashleys Attic (named after my dd) offering for the Colonial era Dresses for girls and their dolls along with Moms..,after teaching at our local homeschool co-op.. American girl and Little House classes .. I seen the girls enjoyed and remembered what they acted out the most.. it is my desire to help you build those same memories with your daughters.. These are are also a wonderful addition to those planning a trip to Historical Williamsburg.
email addresses where I can be reached
MIashleysattic@aol.com Ashleys.Attic@hotmail.com
Please order early for Christmas to ensure delivery on time.
COLONIAL Dresses, Gowns, Hats, Nightshifts/Lappet caps for Girls .. Matching 18 in. doll sets available
Most popular seller.. Calico day dress with insert(stomacher) trimmed in ribbon and lace.. flounced sleeves.. with either mop or pinner cap .. this dress has the most options.. from the color of the stomacher and flounce .. lace .. no lace.. bows or ribbons.. let me help you put the perfect dress together for your daughter.includes drawstring purse.
Sz. 4 to12 / $48.00
Sz.14 or 16/$50.00
Doll sets are 12.00 extra for 18 inch dolls when ordering girls set or 14.00 when ordering alone.
Subtract $2.00 for NO LACE version ..

I like to scour Garage sales for vintage lace and buttons.. with this dress I used a piece of crocheted lace my Great Grandma had made .. and my mom gave it to me.. I did pillow cases and had 8 inches left over.. waiting for this print.. it really gave the dress an old fashioned look:


NO LACE: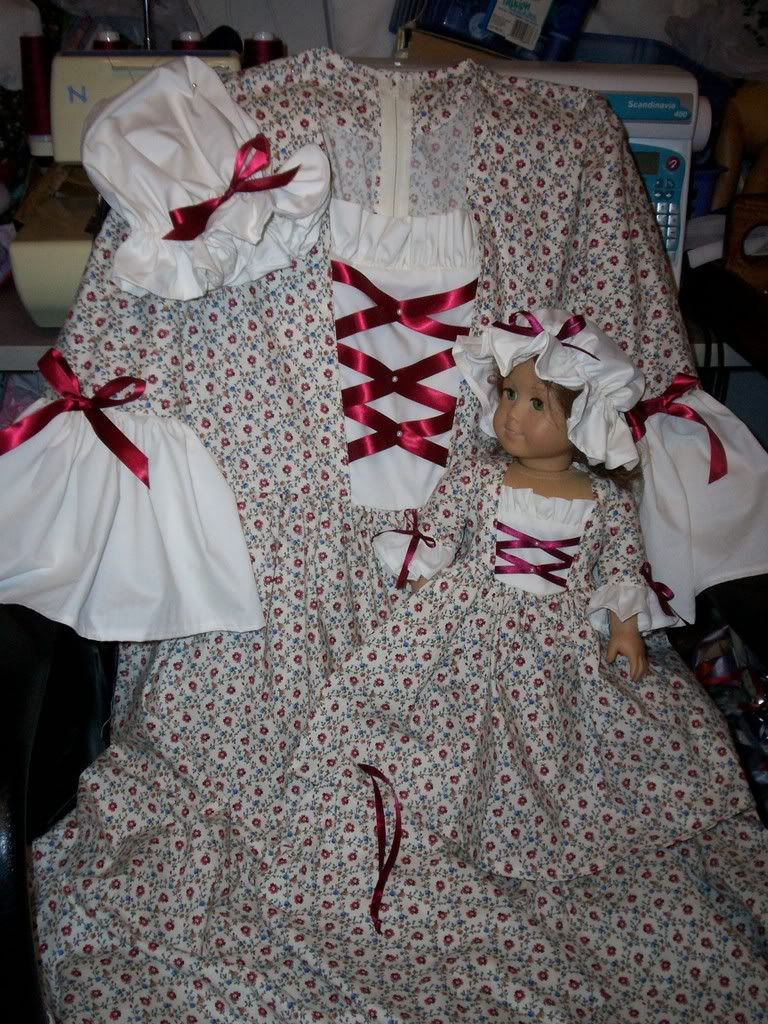 .. Made like Felicity's Rose Garden dress with scoop neckline with ruffle trim.. flounced sleeves with double ruffle .. mop cap or round ear cap .. traditionally this of Cream/Ivory print like Felicity's original "Meet" dress . now called the Rose Garden dress.. but you may choose any color of calico you would like .. includes drawstring purse
SINGLE RUFFLE flounce at sleeve
Sz. 4 to 12 /$42.00
Sz. 14 or 16 / $44.00
DOUBLE RUFFLE flouce at sleeve
size 4 to 12 /44.00 size 14 or 16 / $46.00
matching 18 inch doll set is only $10.00 when ordering with girls set .. or $14.00 when ordering alone.
Muslin .. lace trimmed Scarf /shawl $8.00 Batternburg trimmed scarf /shawl $12.00 (this lace I must order and it takes 2 weeks)
White Muslin Pinner Apron (attached with tiny staight pins ) this is a historically correct apron./$8.00 with girls dress/ 12.00 when ordered alone.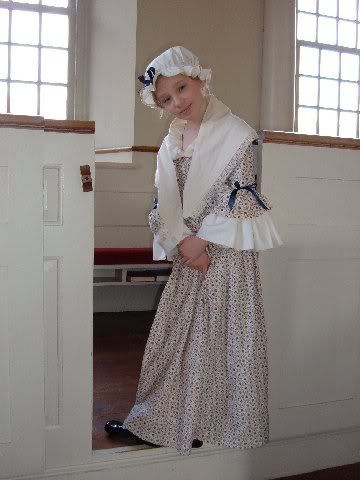 a href="http://photobucket.com" target="_blank">

In a solid color: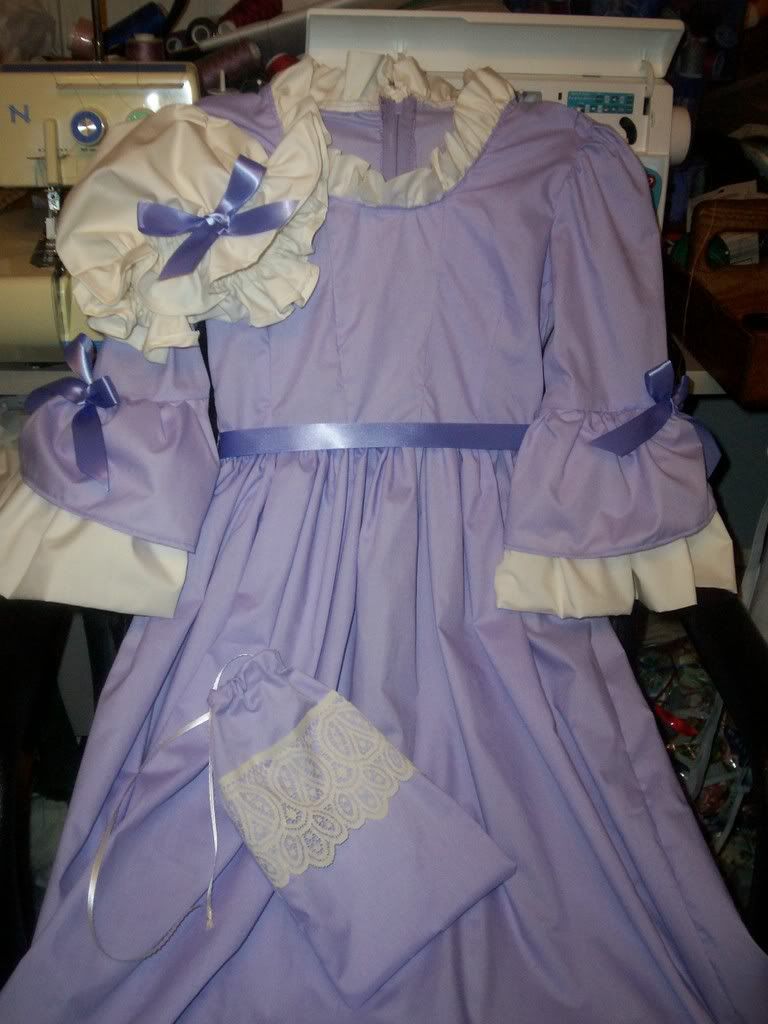 SINGLE RUFFLE :


Battenburg Scarf / Shawl :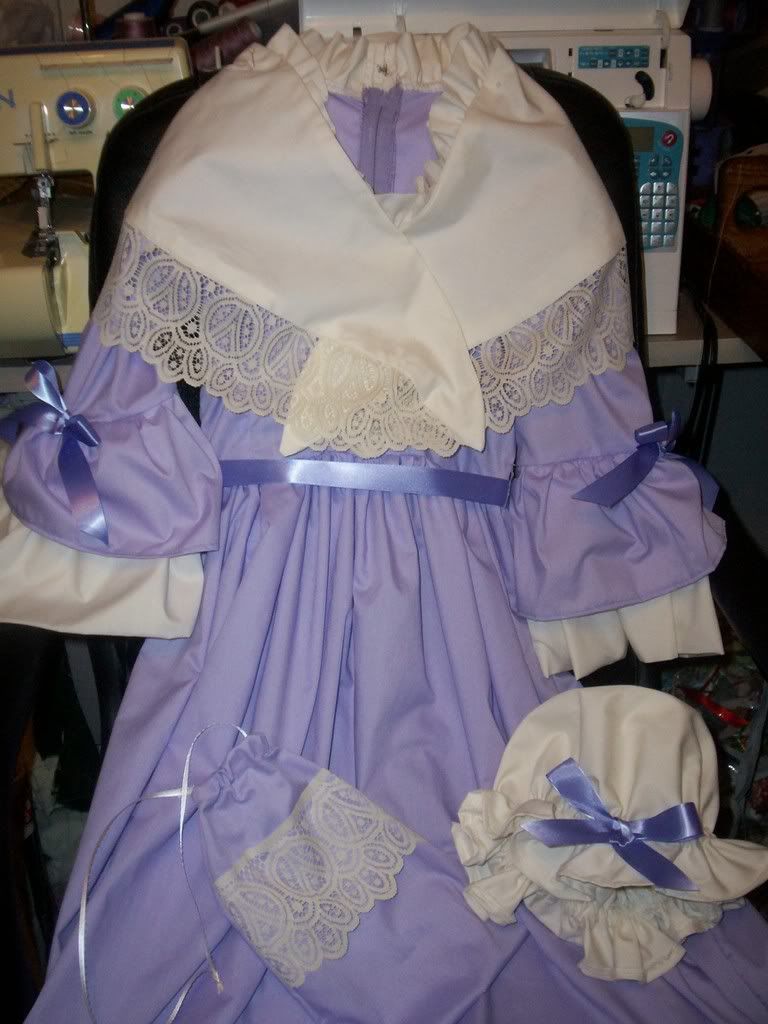 NEW .. Made like Felicity's Spring gown .. Included is a Rose colored solid dress with elbow length sleeves.. and ivory ruffles .. zipper back .. ivory calico pinner apron included .. included ivory or rose colored hair ribbon
Sizes 4 to 10// $35.00
Sizes 12 to 16/ $38.00
Mob cap only $6.00 with this girls dress order. regular price 10.00 ..
Matching 18 inch doll dress and pinner apron $10..00 with girls order // $12.00 when ordered separate. .. $3.00 for Mob cap with order for doll..


In print dress with white pinner apron with embroidery:


.
Dressiest Colonial ( made similiar to Felicity's Christmas dress) ** in taffeta or satin
Made with overdress with attached stomacher(trimmed in ribbon or bows or lace /your choice).. sleeves 3/4 trimmed in lace.. with seperate underskirt.. the same color as the overdress or same color as stomacher.. with an elastic waist.. this also comes with pinner cap trimmed in lace .. and drawstring purse..
Sz. 4 to 10/$70.00
Sz. 12 or 14/$75.00
Sz. 16 /$78.00
18 inch doll set available for only $14.00 when girls set ordered..or $18.00 when ordered separate.

I also make a Colonial Nightshift and Lappet cap for girls .. and a full line of doll outfits for Felicity/Elizabeth..
Felicity Nightgown & Lappet cap(Cap no longer offered by American girl)
made traditionally of white cotton with soft white lace and white ribbon trim.. 3/4 lenght sleeves.. this is also really a shift so it is shorter.. but most ladies want it longer.. so that is also a possibility
* also comes in ivory with ivory trim .. lace is soft cluny lace ..
Girls NG and lappet cap
Sz. 6 to 12 / 30.00
Sz. 14 or 16/ 32.00
Doll 18 inch nightgown(shift) and lappet cap
12.00 when ordering separate and $10.00 when ordering with girls set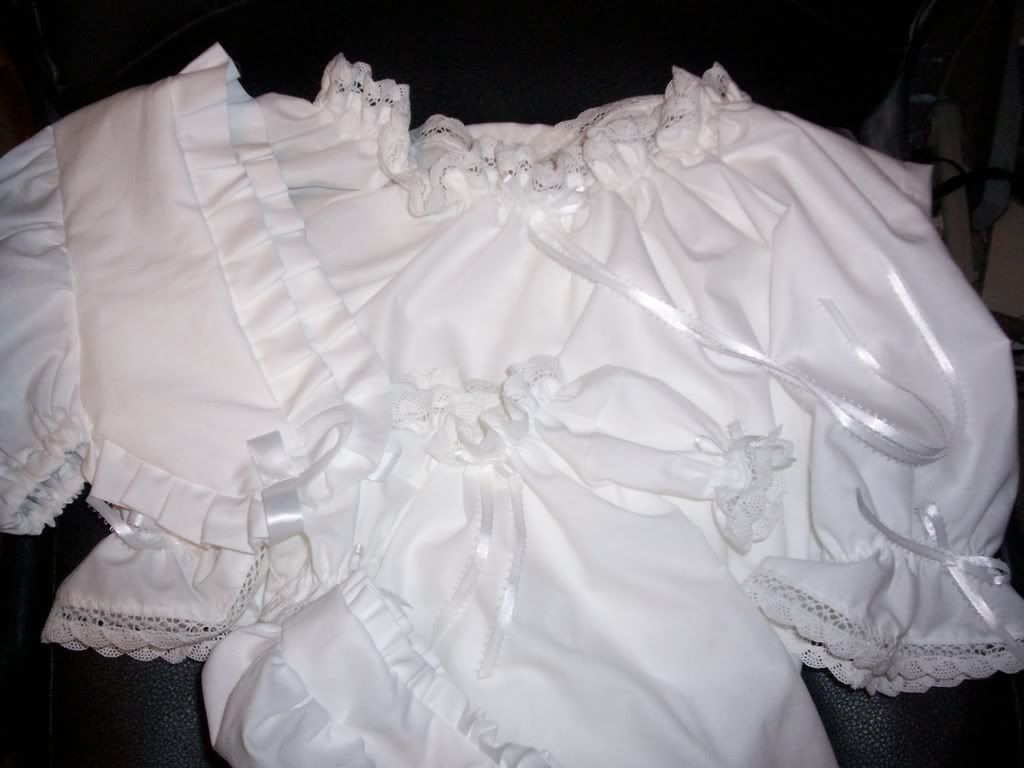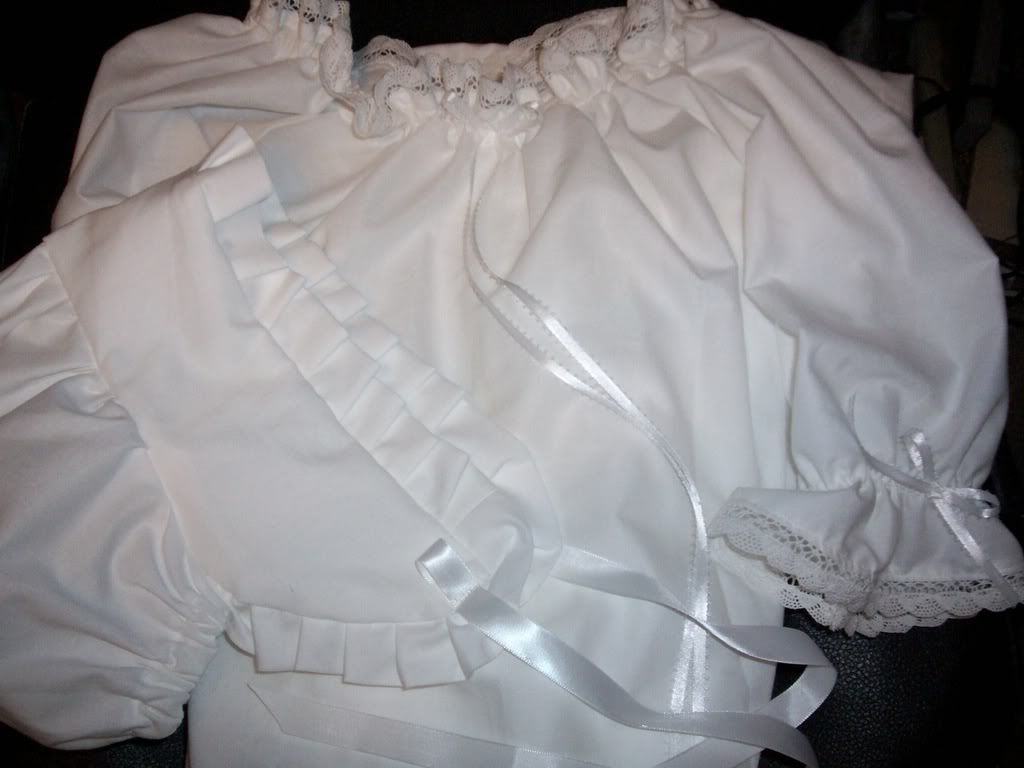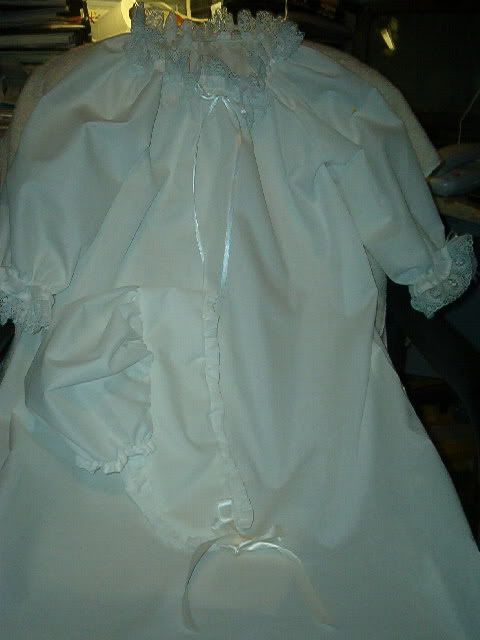 Ivory :


Felicity or Elizabeth
Nightgown and lappet cap/$12.00
School laced jacket,round ear cap, skirt/$14.00
Day dress with mop cap /$14.00
Ball Gown with underskirt and pinner cap/purse/$16.00
Rose Garden dress with cap/$14.00
White summer gown with pinner cap/$14.00
Total Package // $84.00 plus $7.00 shipping.
Package deal // $75.00PP


Colonial Dresses and Hats in Adult sizes : ( all prices are quoted for up to 56" base of neck to floor )
The Day dress and Rose garden Dress is available in Mom's sizes
Sz. 4 to 8/ $58.00
Sz. 10 to 14 / $60.00
Sz. 16 to 20 /$65.00
Ball Gown in Adult sizes
sizes 4 to 12 / 100.00
sizes 14 to 18/ 120.00
Subtract $3.00 from each set when Mommy/DD sets are purchased..
Mother's dress Rose garden/DD in Day dress :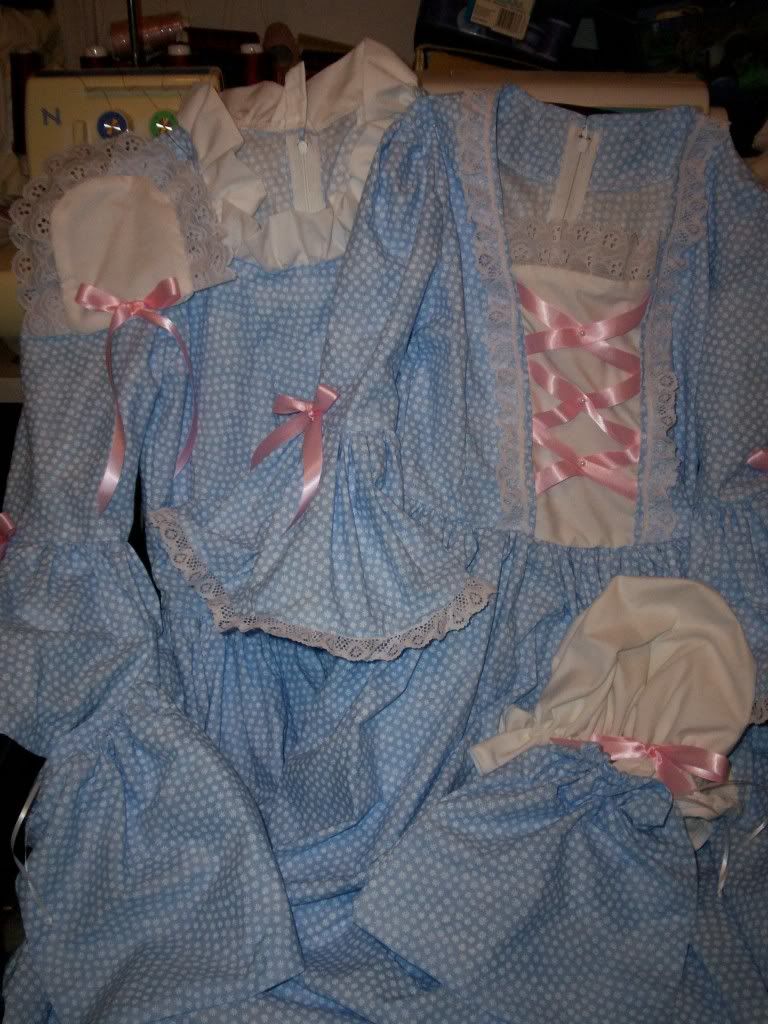 Colonial Outfits for Boys
Breeches (elastic Waist ) 4 to 10/18.00
12 to 14 //$20.00
Long Vest (linen)lined w/bass type buttons 4 to 10/$20.00
12 and 14/$22.00
** there are 2 different kinds of vest .. one with a V neckline .. longer in the front then back.. ..
and the round neck vest .. both are the same price .
.
Colonial shirt .. drop shoulder ..wooden buttons .. button cuffs .. Period accurate gussets.. boys 6 to 14..(runs large)
$18.00 (white or ivory)
Adult men's
Long Vest in Linen In Small or Medium ..
$35.00
Men's shirt (small/med) .. drop shoulder ..wooden buttons .. button cuffs .. Period accurate gussets.. //$25.00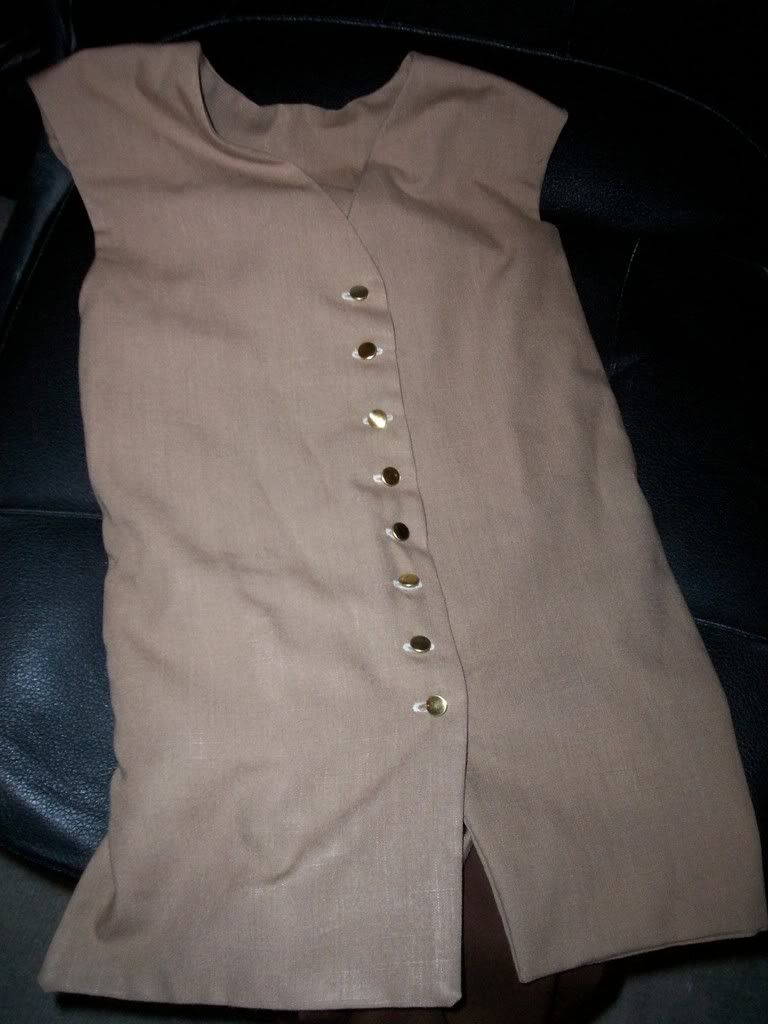 Shirt is shown in Tissue linen prices are quoted for cotton (ivory or white) ..

Period Gusset :



Wooden buttons used: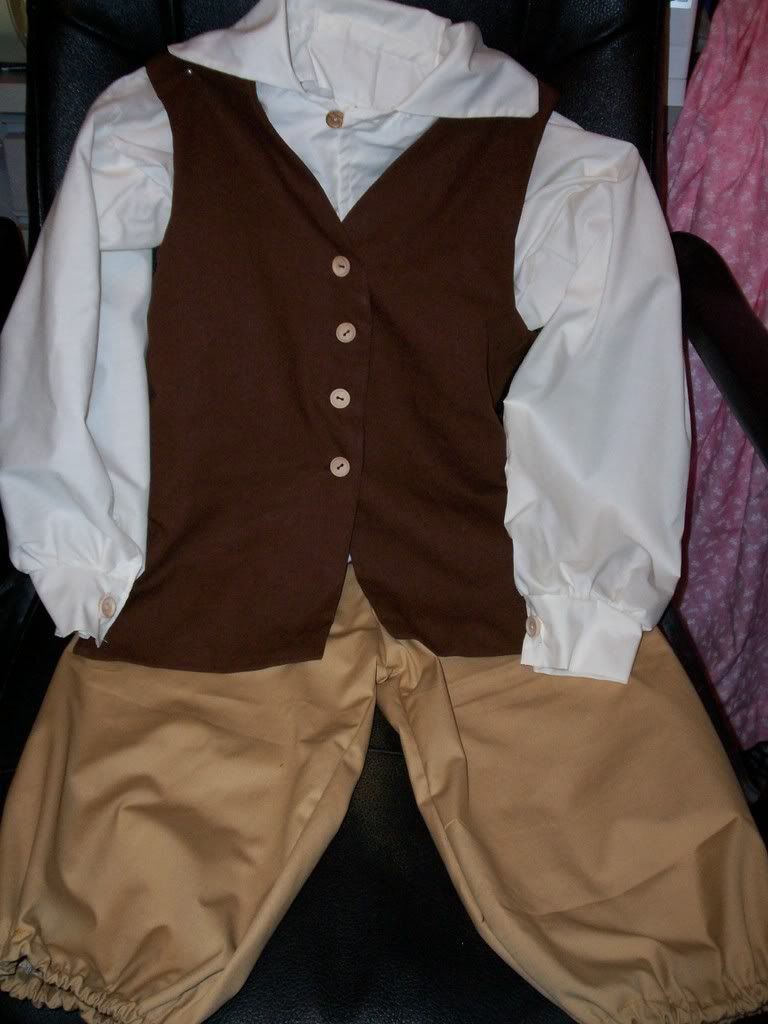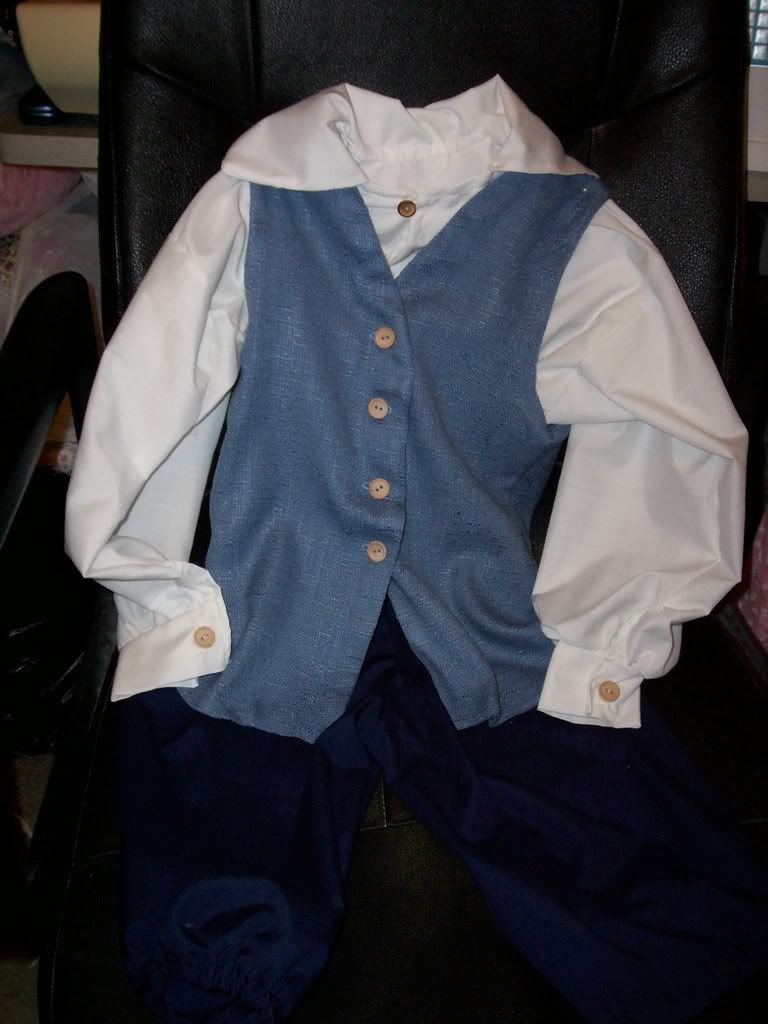 Round Neck Vest .. with ivory Colonial Shirt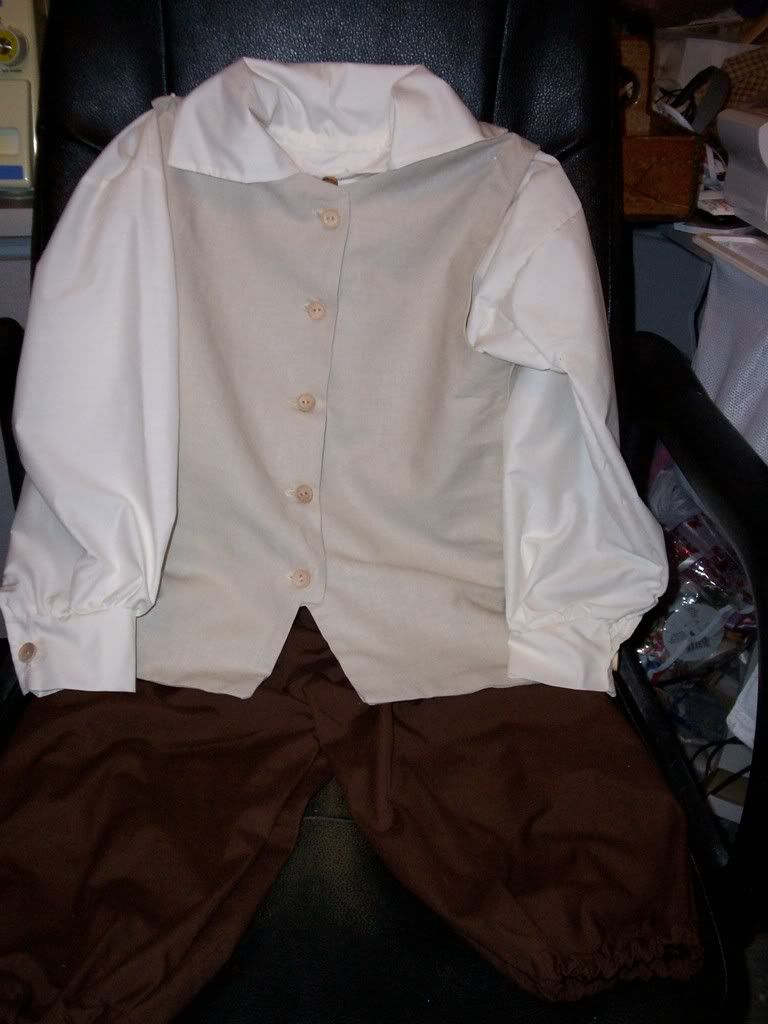 ** sizes are decided on the length you need.. bodices can be made in smaller and larger sizes then length ..
I also carry Frontier shirts for boys .. and Samantha/ Victorian , Addy/Civil War, Josefina/ OldSW, Kirsten/ Pioneer
and Regency / Jane Austen style outfits for girls and their dolls.. Please ask to see the galleries of pictures..
** I am sorry I do not have a website.. but would love to send you my galleries of pictures to view at your leisure..
Shipping is a bit extra .. and DC and Insurance are offered at PO prices .. and are optional for each customer ..I would recommend them to protect your investment.
I take checks , MO's and Paypal (CC and NonCC)
Blessings Cheri
PLEASE NOTE PICTURES ARE FOR STYLE ONLY.. most prints will vary. ..as will trim.
Reply To This Post Return to Posts Index VegSource Home
---