HOMESCHOOLERS: We have some very cool advertisers on this website, and as VegSource is supported by advertising, we're happy about that. If you can't see any ads, you might have an ad blocker, or a setting in your browser which blocks ads from showing up. Consider turning on ads while on vegsource so that you can see what they have to offer, and so that this site can remain free.
Reply To This Post Return to Posts Index VegSource Home
---
| | |
| --- | --- |
| From: | Llozano (74.196.120.114) |
| Subject: | 4 College Physics Books, Government and French Textbooks, College Study Bible |
| Date: | July 20, 2011 at 9:40 pm PST |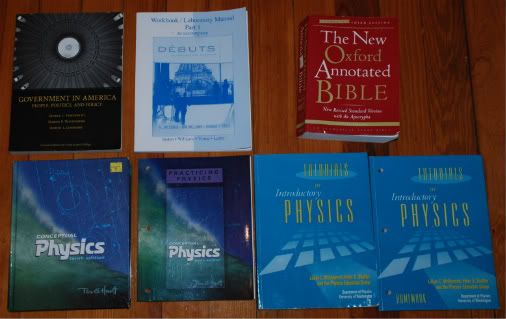 I accept PayPal or check, but a check will need to clear prior to shipping. Buyer to pay shipping; items will be shipped MediaMail as soon as payment is confirmed. Please contact me at carpe-diem@suddenlink.net for more info. Thanks!

Conceptual Physics tenth edition by Paul Hewitt. Copyright 2006. ISBN:0-8053-9375-7. Hard cover in good condition. Comes with brand new workbook described below . From smoke free home. $ 30
Conceptual Physics tenth edition- Practicing Physics by Paul Hewitt. Copyright 2006. ISBN: 0-8053-9198-3. Soft cover workbook in excellent condition. No writing and comes from a smoke free home. Goes with textbook described above.

Tutorials in Introductory Physics (Manual + Homework book), by McDermott, Shaffer, and the Physics Education Group. Copyright 2002 by Prentice-Hall, inc. ISBN: 0-13-066245-3. Two softcover books, used at Baylor U as a compliment to the Giancoli Physics text. The books are in used condition – there are five sections to each of the books and several sheets from the Mechanics sections have been used (written on in the manual, removed from the homework worksheet book). However, the Electricity and Magnetism, Waves, Optics, and Selected Topics sections are fully present. $3.
Government in America- People, Politics and Policy. Custom edition for Tyler Junior College. Copyright 2008. ISBN:0-536-45916-9. Soft cover in excellent condition, comes from smoke free home. Comes with student access code card. $ 15.00
Workbook/Laboratory Manual, Part 1, to accompany Debuts: An Introduction to French, Third Edition. By H. Jay Siskin, Williams, and Field. Copyright 2010. ISBN: 978-0-07-727291-3. Soft Cover, Brand New with no writing, highlighting, or marks. $30.00
The New Oxford Annotated Bible, New Revised Standard Version with the Apocrypha, College Edition. Augmented 3rd Edition. Editor Michael D. Coogan. Copyright 2007. ISBN: 0-19-528883-1. Paperback, good condition. There is minimal writing on a few pages, and the cover is slightly dog-eared. $5.

Reply To This Post Return to Posts Index VegSource Home
---