HOMESCHOOLERS: We have some very cool advertisers on this website, and as VegSource is supported by advertising, we're happy about that. If you can't see any ads, you might have an ad blocker, or a setting in your browser which blocks ads from showing up. Consider turning on ads while on vegsource so that you can see what they have to offer, and so that this site can remain free.
Reply To This Post Return to Posts Index VegSource Home
---
| | |
| --- | --- |
| From: | Melissa Coco (99.25.234.126) |
| Subject: | Giggles in the Middle- Grammar with a twist |
| Date: | May 6, 2013 at 8:27 am PST |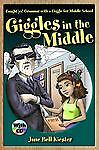 "Caught'ya! Grammar with Giggles- Giggles in the Middle" is a great complete Grammar Curriculum for Middle Schoolers and would be great for homeschoolers as well as in a classroom setting. It is one continuous story between the teacher and the students that is divided into a part for 6th, 7th, and 8th grades. It not only covers the grammar, usage and mechanics skills of language arts, but also helps the middle schoolers with their writing and communication skills as well as vocabulary building. It comes with a CD that contains all sorts of helps including the entire storyline, the mid and final tests and the sentences to be edited.
This book and CD are in like new condition. Author is Jane Bell Kiester and retail price for this book is 24.95.
I am asking $16 ppd. Please email me if interested.
Reply To This Post Return to Posts Index VegSource Home
---