HOMESCHOOLERS: We have some very cool advertisers on this website, and as VegSource is supported by advertising, we're happy about that. If you can't see any ads, you might have an ad blocker, or a setting in your browser which blocks ads from showing up. Consider turning on ads while on vegsource so that you can see what they have to offer, and so that this site can remain free.
Reply To This Post Return to Posts Index VegSource Home
---
| | |
| --- | --- |
| From: | Jerzy (68.85.82.231) |
| Subject: | Breakfast is served |
| Date: | August 27, 2006 at 4:15 am PST |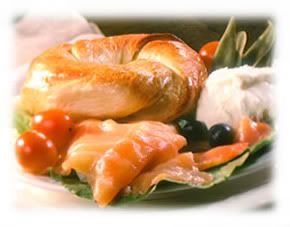 This morning I woke up early - and made you all the freshest of bagels - of course, I made all kinds, from blueberry and chocolate chip, to everything bagels that have 10 different toppings. There is some cream cheese, and of course, can't have bagels and cream cheese without some Nova. Enjoy. Someone will be around shortly with the fresh fruit - and the coffee is brewing - please - if you finish the pot - rinse it out and start a new one????
Reply To This Post Return to Posts Index VegSource Home
---