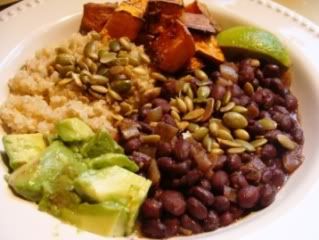 A simple dinner we had in a rushed week-- black beans seasoned with cumin and sherry, ripe avocado with lemon juice, roasted pumpkin seeds, quinoa and bulgur wheat mixture, and roasted sweet potatoes. Yum!

This is going to be a bit of a rushed blog, as I have my brother and sister-in-law here visiting from California, and we are heading off my little island every day to visit my mother. In addition to that, my poor daughter-in-law was sent in a helicopter to a hospital in Vancouver because of an embolism in her leg. My son has things in hand, the kids are being very brave, and we've helped out however we can. My DIL has her dad and brother and my youngest daughter over there to look after her needs and she is on the mend, I'm glad to say!

The day before that happened, I was off to Victoria with my oldest daughter and her husband to attend the convocation ceremonies at University of Victoria, where my middle daughter graduated (with distinction!) and received her Bachelor of Social Work degree. She has 3 children and works full time running the AIDS Vancouver Island office in our area, so this is quite an accomplishment! We are all very proud of her!!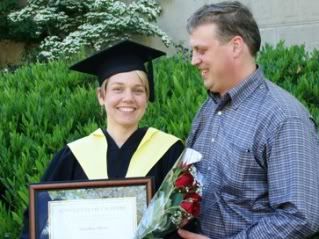 Sarah and her husband Ben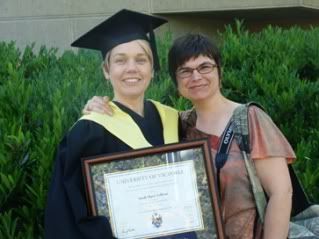 Sarah and her big sister Beth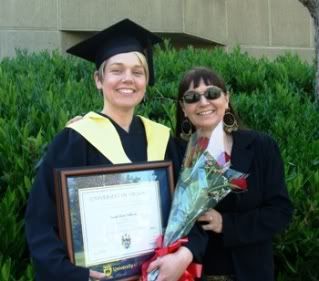 Sarah and proud Mum!


I have been waiting for my extra-fine mesh bouillon strainer
(or China cap, or Chinois) to make my life easier when straining soymilk! (See this blog post.) It was so much cheaper in the States, so, when I knew my brother was coming up, I ordered it from amazon.com
and they packed it up here for me! It works! And fast! No mess, no fuss! I LOVE it! Thanks Pat Meadows for the idea and advice!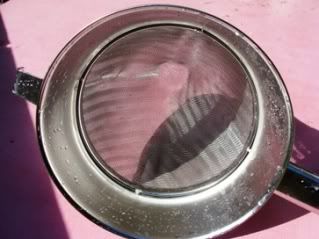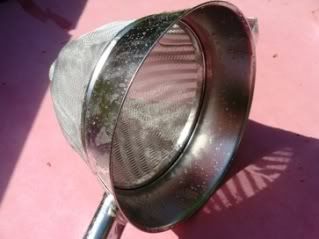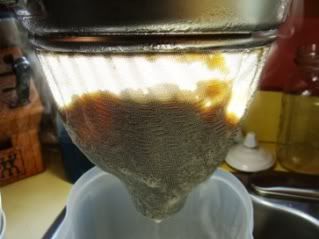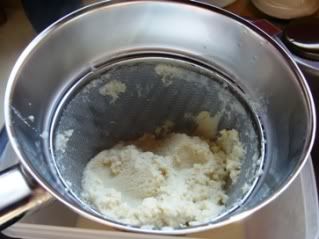 HAPPY FATHERS' DAY ALL YOU WONDERFUL DADS OUT THERE!
You can use these sauces on veggie burgers, grilled portobello mushrooms, grilled tofu and tempeh, seitan kebabs or cutlets, firm grilled vegetables, etc.)

PS: I will add Printable recipes and nutrition notes tomorrow-- gotta run now!)

BRYANNA'S QUICK SMOKY CHIPOTLE BARBECUE SAUCE
Makes about 6 cups

1/28 oz. can good quality Italian crushed tomatoes
3/4 c. water
1/2 c. organic ketchup
1/2 c. brown sugar
1/2 c. blackstrap molasses
1/2 c. red wine vinegar
1/4 c. vegetarian worcestershire sauce (see recipe below)
2 T. pureed chipotle chiles in adobado sauce (Edible Island carries these)
1 T. salt
1 T. onion powder or granules
2 tsp. garlic granules
2 tsp. dry mustard powder
2 tsp. liquid smoke
Combine the ingredients in a large heavy saucepan and simmer for about 15 minutes. If you aren't using it right away, the sauce will keep in jars in the refrigerator for many weeks.

BRYANNA'S BOURBON BARBECUE SAUCE Makes about 3 cups
Mix together in a pot and simmer for 15 minutes:
2 c. organic ketchup
1/2 c. molasses (your favorite variety)
1/3 c. bourbon whiskey
1/4 c. Dijon mustard
2 T. vegetarian Worcestershire sauce (see recipe below)
1 T. Indonesian or Chinese or Thai chile sauce
2 T. cider vinegar
2 tsp. paprika
1 tsp. garlic granules
1 tsp. onion powder
1 tsp. liquid smoke
Place in a covered jar and refrigerate.


BRYANNA'S SOUTH CAROLINA GOLD BBQ SAUCE (WITH CANADIAN CONNECTIONS) Makes about 2 1/2 cups
I didn't know about this sauce until I read a mystery novel by Kathy Reichs, whose character resides both in South Carolina and Montreal. She mentioned bringing the precious golden mustard-based BBQ sauce to Montreal with her. That intrigued me. I found many recipes-- all different. This is the one I worked out for myself. I have nothing to compare it to, but everyone who tastes it goes crazy over it!

1 Tbs roasted (Asian) sesame oil
1/2 cup minced onion
1 jar (8 oz. or 250 mg) smooth Dijon mustard
3/4 cup brown sugar
3/4 cup cider vinegar
1/2 cup vegetarian broth
1 1/2 Tbs soy sauce
1 tsp Louisiana Hot Sauce (or more to taste)
1 tsp liquid smoke
1 bay leaf
1/2 tsp dried crumbled thyme
freshly-ground black pepper to taste
Heat the sesame oil in a small skillet and sauté the onions, stirring frequently, over medium heat until softened. Combine all the other ingredients except the bay leaf in a medium saucepan with a whisk. Stir n the onions and add the bay leaf. Bring to boil. Turn down and simmer for 5-10 minutes, stirring occasionally. Remove the bay leaf. Pour into a jar, cover and refrigerate.

BRYANNA'S ISLAND BARBECUE SAUCE Makes about 1 quart.

1 and 3/4 c. organic ketchup
19 oz. can of unsweetened crushed pineapple and juice
1/2 c. dry red wine
1/3 c. water
1/4 c. fancy molasses (light molasses)
1/4 c. lime juice
2 T. soy sauce
2 T. vegetarian "oyster sauce" (also called "vegetarian stir-fry sauce", made by Lee Kum Kee and available at Man Lee Asian Foods in Nanaimio)
1 T. dry mustard
1 T. pureed canned chile chipotle in adobado sauce (Edible Island carries this)
2 tsp. onion powder
2 bay leaves
1 and 1/2 tsp. powdered ginger
1 tsp. curry powder
1/2 tsp. garlic granules

Mix all of the ingredients in a heavy-bottomed medium pot, bring to a boil, then simmer on low, uncovered, for 1 hour.

BRYANNA'S VIETNAMESE-STYLE BARBECUE SAUCE
Just mix and use!
1/2 c. soy sauce
8 cloves garlic, crushed
1/4 c. dry or medium sherry
1/4 c. brown sugar
4 slices ginger, smashed
2 green onions, chopped fine
1-2 tsp. Vietnamese or Thai hot sauce
1 tsp. 5-spice powder


BRYANNA'S VEGETARIAN WORCESTERSHIRE SAUCE Makes about 2 cups
Most commercial worcestershire sauce is made with anchovies, so is not considered vegetarian, and would be a problem for anyone with a fish allergy Here's a fast and very good homemade version that will keep for many months in your refrigerator. Shake before pouring. It adds a lot of flavorto barbecue sauces.

1 c. cider vinegar
1/3 c. dark molasses
1/4 c. soy sauce or mushroom soy sauce
1/4 c. water
3 T. lemon juice
1 and 1/2 T. salt
1 and 1/2 tsp. powdered mustard
1 tsp. onion powder
3/4 tsp. ground ginger
1/2 tsp. black pepper
1/4 tsp. EACH garlic granules, cayenne pepper, and ground cinnamon
1/8 tsp. EACH ground cloves or allspice and ground cardamom
Combine all of the ingredients in the blender. pour into a saucepan and bring to a boil. Pour into a clean jar with a tight lid and refrigerate.

Cheers!


SATURDAY, JUNE 19, 2010
FACEBOOK COMMENTS:
---